Minister of State for Training and Skills John Halligan has said he thinks the Government's JobBridge programme needs to be scrapped.
Speaking to RTÉ News he said: "I think it needs to be replaced. I think the JobBridge as it is presently constituted needs to be replaced ... Right now it is not fit for purpose, we certainly need to replace it."
Earlier, Mr Halligan said while there are some people who value it there are others who abuse it.
The controversial scheme provides work experience opportunities for unemployed people. Participants are offered an internship of up to nine months - which sees them keep their social welfare payment and get an extra €52 per week.
The Independent Alliance TD, one of three junior ministers appointed from outside the Fine Gael ranks, also said Waterford Regional Airport receiving extra funding was part of his deal to support the Government.
"In the Programme for Government all regional airports are being given extra funding, it isn't only Waterford."
The Waterford TD also said he would not pay a water bill if he received one but as he is not the owner of the house he lives in he has not been billed.
The Department of Social Protection has said decisions on the future of the programme will only be made following publication of a report which was established to evaluate the scheme.
It says the report will be ready in September.
The Department also said: "To date some 15,000 interns went directly into paid employment immediately following a JobBridge internship.
"Independent research indicates that this rose to 29,000 interns, or 61% of all participants after five months, compared to the EU average of 34%"
Burton 'disappointed and perplexed' over three extra Ministers of State
Meanwhile, former tánaiste Joan Burton has criticised Taoiseach Enda Kenny for appointing extra junior ministers and questioned if the government "can afford to splurge on three extra ministers".
She was particularly critical of Mr Kenny's appointment of four junior ministers at the Department of Health.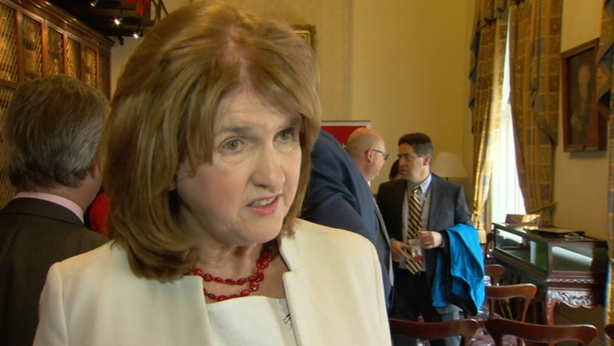 Speaking at a press conference in Dublin, Ms Burton said that she was "disappointed and perplexed at the decision of the Taoiseach and the Government to expand the number of Ministers of State from 15 to 18.
"The country is undoubtedly better off but I am not so sure that it is that better off that the Government can afford to splurge on three extra Ministers of State and move us back to the very bad old days of just having an excessive number of Ministers of State."
As well as the cost issue, Ms Burton added that the new appointments bring a "level of confusion. There are now four ministers of state in health. Now of course all of those people and their families, I am happy for them personally. It's a great honour to become a minister.
"But there will now be one senior minister and four Ministers of State in health. I am not personally completely convinced as to what that is going to do to help the health situation in this country."