Hundreds of mid-ranking gardaí have marched on Government Buildings in a demonstration over pay restoration.
Members of the Association of Garda Sergeants and Inspectors held a rally on Merrion Street where a letter was handed into Minister for Justice Frances Fitzgerald.
It is illegal for gardaí to hold a protest march in uniform so they wore plain clothes but in blue.
AGSI president Antoinette Curran estimated the crowd at 600 by the time they reached Government Buildings.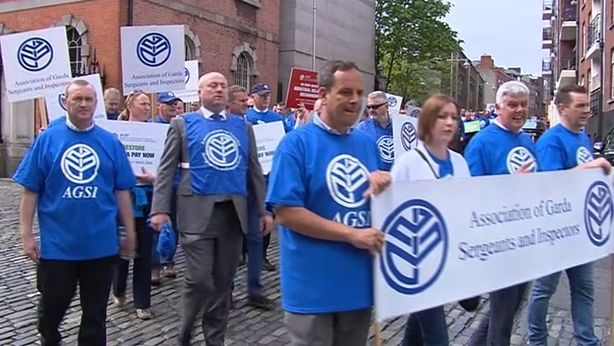 The AGSI are planning three weeks of protests, which will escalate to a form of work-to-rule but not a strike, if there is no engagement by Government.
That decision will be taken at a special delegate conference at the end of June.
Gardaí moving anti water charge protestors down Molesworth St away from Leinster House @rtenews pic.twitter.com/zZO74i5aBZ

— Mícheál Lehane (@MichealLehane) May 17, 2016
Meanwhile, the review into garda remuneration and industrial relations has stalled following the resignation of chairman Ray McGee.
Mr McGee, who is a former Deputy Chair of the Labour Court, notified the Department of Justice last Wednesday of his decision to resign as Chair of the Haddington Road Review (Remuneration and Industrial Relations Strand) for personal reasons.
In a statement, the department said it was consulting the garda representative associations as to how the review can be progressed.