What are effectively no-fly zones over film sets are being implemented by the Irish Aviation Authority over some of the country's most scenic headlands to facilitate the shooting of scenes for Star Wars Episode VIII.
One of the most stringent restrictions is already in place, on the Dingle peninsula in west Kerry.
A 21-day restriction bans flying under 1.5km (5,000ft) within a circle of an 8km radius.
The "Air Navigation Restriction" in the vicinity of Sybil Head and Dunmore Head in Dingle has been in place from 5 May and will continue until 26 May, according to the terms of the flight restriction notice issued by the Irish Aviation Authority.
The IAA says the restrictions are for safety reasons.
No aircraft are allowed fly in the zone without permission.
State aircraft and those of the Irish Coastguard Service on search and rescue missions are exempt from the ban.
The restriction specifically excludes drones.
Private drones may not operate unless they have written permission "from the flight operations authority and event organisers", the notice states.
Such remotely operated aircraft in the zone may be seized by gardaí "as evidence for potential prosecution and in the interest of aviation safety," it warns.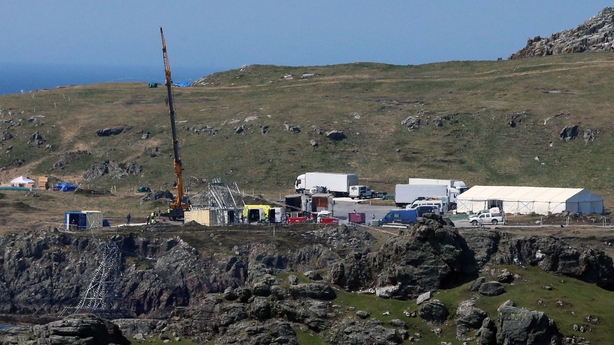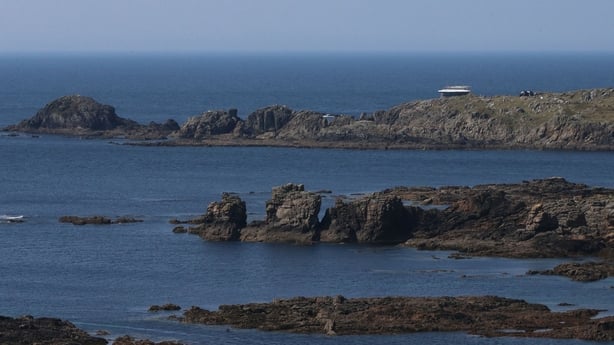 Similar restrictions, for similar reasons, are being put in place for two- and three-day periods, for Brow Head in Co Cork, Malin Head in Co Donegal and Loop Head in Co Clare.
In 2015 and 2014, during the filming of two previous Star Wars films in Co Kerry, an exclusion zone under the Maritime Safety Act 2005 was placed around the Unesco world heritage site of Sceilg Mhichíl and was enforced by the Irish Navy.
That exclusion was for the protection of heritage and personnel, according to the Department of Transport at the time.
The Sceilg's beehive monastic village has now been recreated on private land at cliff edge at the top of Ceann Sibéal, a protected area.
Permits for the project were granted by the Department of Arts, Heritage and the Gaeltacht, in conjunction with the National Parks and Wildlife Service.
The site is under tight security.
An IAA spokesman said "At the request of the Department of Arts, Heritage and the Gaeltacht, the IAA issued a number of Temporary Restricted Areas (TRA) to support film activity. Full details of these TRAs, including location and duration, is available on the IAA website."