The United States has urged the Irish Government to ensure that publicly-funded schools stop showing preference to applicants for places on grounds of religion.
The call was made in Geneva during United Nations hearings on Ireland's human rights record.
Many countries joined the US in calling for the easing of restrictions on abortion and the ending of discrimination against Travellers, Roma people and people with disabilities.
Earlier in today's hearings, representatives of the Government defended the State's actions to help refugees fleeing the near east and to combat homelessness.
Brian Kennedy of the Department of the Environment said the previous government had presided over a doubling of house-building between 2013 and 2015. But he admitted that the 12,500 homes built last year fell far short of the government's official target of 20,000 new homes per year.
He said the residential rents had doubled  between 2006 and 2011 and were back to pre-recession levels in the Dublin area.
But he emphasised that the previous government had protected tenants by a series of initiatives including limiting rent increases to one every two years. 
Eugene Banks of the Department of Justice and Equality reiterated the Government's commitment to accommodate 4,000 people fleeing war in the near east by the end of next year.
He said so far pledges of 101 places had been offered to such asylum seekers and ten had already arrived and were receiving health, language teaching and reorientation services.
He said it was expected that scores more would arrive in the next two months and average of 40 people fleeing Syria, Iraq and Afghanistan would arrive here each month after June.
Gavin O'Leary of the Department of Education and Skills said government policy has been to move to a greater diversity of school choice.
He said that of the 42 new schools built in Ireland since 2011, 39 were multi-denominational and that by 2030, it was planned to establish 400 multi- and non-denominational schools.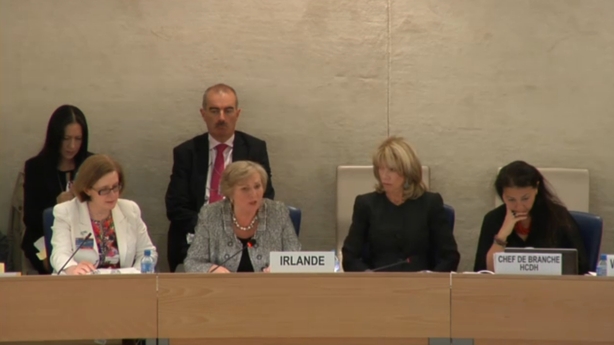 Tánaiste and Minister for Justice and Equality Frances Fitzgerald delivered a speech at the hearing. 
Nearly 100 countries commented on the Irish Government's report for the UN's Second Universal Periodic Review of Ireland's human rights policies.