The RTÉ Investigations Unit has uncovered evidence which indicates Ireland has become an import destination for car write-offs.
The cars were mainly imported from the United Kingdom but also from countries as far away as Australia.
Known as 'Category B' write-offs, these cars were designated elsewhere as unroadworthy and unfit for repair.
However a lack of legislation in Ireland allows cars to be repaired and put back on the road.
Despite consumer legislation, which requires car dealers to disclose a car's full history, some of these 'Category B' cars are being sold to unsuspecting motorists by dealers who do not disclose all the pertinent information.
This can leave motorists with not only a potentially unsafe car but also possible complications with insurance companies.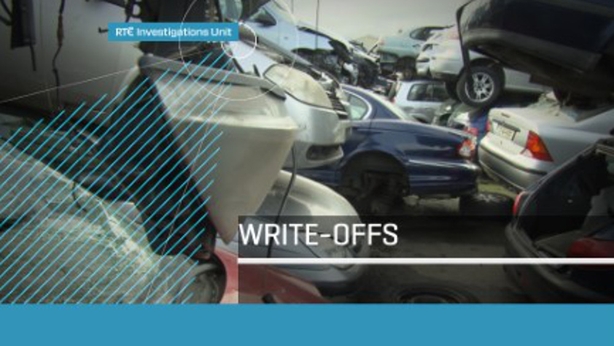 If a motorist driving a 'Category B' write-off has an accident and the insurer discovers the car's history, the driver may find that the payout for the car will be substantially reduced, even if they did not know the car's history.
While countries such as the UK and Australia have stricter systems to deal with 'Category B' cars, Ireland has no specific laws on write-offs.
It is currently legal to import a 'Category B' car and register it for road use even if it has been written-off elsewhere.
New legislation was promised by the previous government to make it illegal to drive a 'Category B' on the roads, but that was never delivered.
Unlike the UK, insurers are under no legal obligation to share their information about write-offs.
Ireland has a voluntary system where insurers log details of write-offs with the Department of Transport, meaning they cannot be later taxed or insured.
However not all 'Category B' write-offs are logged in this system.
In fact, the report suggests, for purchasers, it is generally easier to get details of a car's accident history if it is a UK import than if it is a car originally registered in Ireland.