A commission established by the previous government has said that former garda commissioner Martin Callinan "is entitled to have his reputation vindicated" and that allegations made against him by garda whistleblower Sergeant Maurice McCabe were "unfounded and deeply hurtful".
The report by the O'Higgins Commission, established on foot of complaints by Sgt McCabe, says he did not withdraw an allegation of corruption against Mr Callinan despite being invited to do so.
It found there was "not a scintilla of evidence" to support such an allegation which it said was "unfounded and deeply hurtful".
It highlighted other instances where Sgt McCabe withdrew other serious allegations of garda criminality and corruption.
The O'Higgins Commission of Inquiry upheld some of his complaints but it also identified cases where, in the dossier received by Fianna Fáil leader Micheál Martin and Taoiseach Enda Kenny, Sgt McCabe had exaggerated complaints and submitted allegations that were found to be wrong.
These allegations, which were rejected by the commission, were more serious than the previous allegations Sgt McCabe made about the same cases years before.
Mr Justice Kevin O'Higgins also found that the exchanges between Mr Callinan and former minister for justice Alan Shatter were "appropriate and professional".
The cases examined in the O'Higgins Report
McCabe 'dedicated' but 'prone to exaggeration'
---
No evidence of garda corruption
The commission highlighted serious flaws and failures in criminal investigations in the Cavan-Monaghan division in 2007 and 2008, but found no evidence of garda corruption. 
The report, which has been seen by RTÉ News, has identified many problems with garda management and resources but said the failures it investigated were "at a human level and caused by poorly supervised individuals". 
The report also found that victims of crime were "not well served" by the Garda Ombudsman or the garda investigations, most of which had been led by probationer, or newly-graduated gardaí and were characterised by errors and delays.
The report identified serious failings in eight criminal investigations including assaults, dangerous driving, child abuse, and in the case of Jerry McGrath, who murdered Sylvia Roche Kelly in Limerick while out on bail in 2007.
The widower of Ms Roche Kelly said his biggest issue is that it has taken nine years to get the report because gardaí had been uncooperative and failed to admit to any failings. 
Speaking on RTÉ's Today with Keelin Shanley, Lorcan Roche Kelly said: "This is nine years later and I have never had any guard come to me to try and explain what happened. I have never had anyone from the Department of Justice come to me to try and explain what happened.
"No one has ever approached me and said - look, this is where we failed, this is what we are going to do." 
The commission found that Sgt McCabe acted out of genuine and legitimate concern and upheld some of his complaints but found others were inaccurate, incorrect, overstated and unfounded.
The commission also identified instances where Sgt McCabe categorised crimes to make them appear more serious and in one case lied in a report to a senior officer, which the commission described as "unacceptable".
The report was delivered to Minister for Justice Frances Fitzgerald two weeks ago.
Ms Fitzgerald has said it is being studied by the Attorney General but the delay in publishing it has been strongly criticised by Mr Shatter.
McCabe a 'central figure in investigation'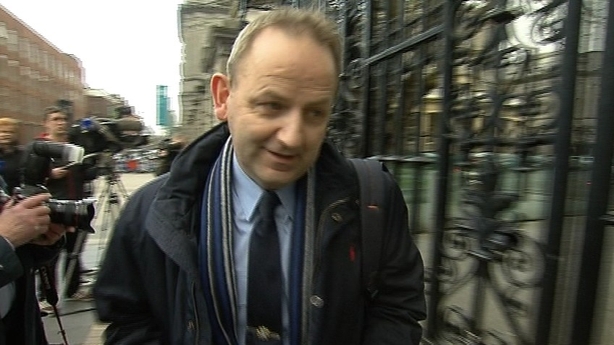 Sgt McCabe is described by the O'Higgins Commission as "the central figure in the investigation."
Its report says he acted out of "genuine and legitimate concerns" and is "a dedicated and committed member" of An Garda Síochána.
It also says he was "prone to exaggeration" and while some of his complaints were upheld, others were found to be "overstated", "exaggerated", "unfounded" and "withdrawn".
The commission details his allegations against other senior officers including an assistant commissioner, a chief superintendent, a superintendent and an inspector which were not upheld.
Complaints made against one officer were rejected at least 19 times in the report.
Allegations in the dossier submitted to Mr Kenny and Mr Martin and which were raised in the Dáil were also found to be "incorrect", "inaccurate," "not borne out" and had "no evidence to substantiate".
The commission found that Mr Shatter took the allegations very seriously and his actions were "entirely reasonable and appropriate".
Meanwhile, Mr Shatter has said it was "very unsatisfactory and unfair" to many people who were the subject of allegations investigated by the O'Higgins Commission that the report has not been published. 
Speaking on RTÉ Six One, he said it was "beyond bizarre" that people are learning what may be in the report through leaks.
He said from what he knows of the background to the report there is no legal impediment to it being published. 
He said the Fennelly Report was published within 24 hours and and the Guerin Report within three days. 
Mr Shatter said if reports of its contents were true, it fully vindicates Mr Callinan and that the allegation of corruption against him should never have been made. 
He also said Fianna Fáil wanted to deflect from the findings because the allegations about garda activities in Cavan/Monaghan in 2007 and 2008, when Fianna Fáil was in government.