The leaders of the 1916 Rising are being remembered at the official opening of Richmond Barracks this afternoon.
The leaders of the Irish revolution, along with over 3,000 Irish rebels, were held in Richmond Barracks in the aftermath of the 1916 Rebellion before they were sentenced.
The opening event is taking place between the gymnasium – where the rebels were sorted and the leaders identified – and the courtyard.
Today's date coincides with the centenary of the first courts martial of the Rising leaders that took place in Richmond Barracks in the immediate aftermath of the Easter Rising 1916.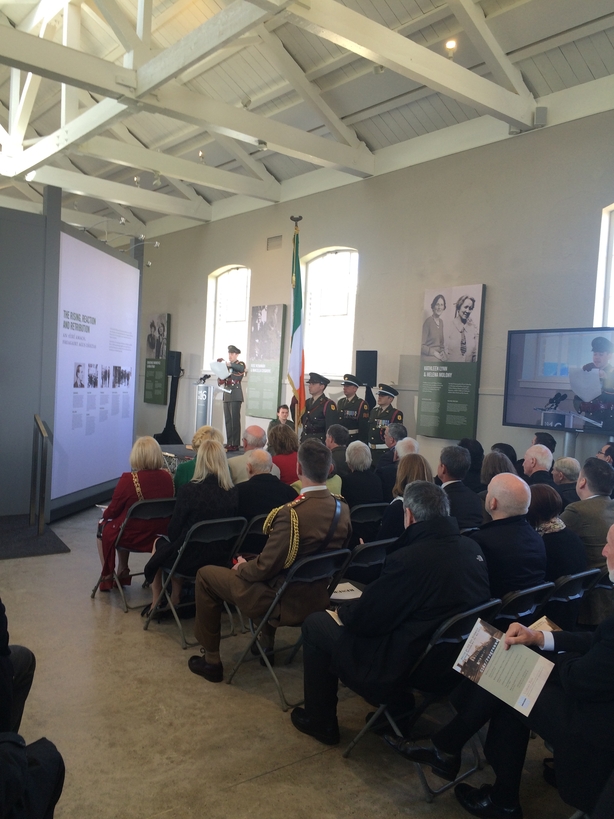 Those who were court martialled on Tuesday 2 May 1916 included Pádraig Pearse, Thomas MacDonagh, and Thomas Clarke.
The redevelopment of the barracks began last year.
In attendance are Sabina Higgins, Tánaiste Joan Burton, Lord Mayor of Dublin Críona Ní Dhálaigh, and Relatives of those held in Richmond Barracks in 1916.
Meanwhile, up to 100 people gathered in Galway this morning to retrace the steps of the Galway volunteers during the 1916 Rising.
Two groups set out from Carnmore and Clarinbridge early this morning, meeting in Oranmore.
From there they continued to retrace the volunteers' steps to Mellows Campus in Athenry, where volunteers stayed overnight and later disbanded at Lime Park.
There were between 500 and 700 volunteers involved.
Local Memorabilia from the time was on display at Mellows Campus, marking the contribution that Galway volunteers made during the Rising.
The event was organised by Galway County Council as part of their 1916 commemorative programme.