Our Lady's Children's Hospital, Crumlin has apologised to a four-year-old boy who was left severely brain damaged after a mistake was made during a routine operation on his chest.
The High Court has approved an interim settlement of €3.5 million in the case of Jude Miley from Dundrum in Dublin.
Lawyers for the hospital turned to face Jude Miley's parents in court as they read a statement in which the hospital offered an "unreserved, unequivocal and heartfelt apology for what happened to Jude".
The hospital said it "appreciated and greatly regretted the huge trauma" suffered by the baby and his family.
In January 2012, at the age of six months, Jude Miley had surgery to relieve compression in his chest.
However a stitch was mistakenly left untrimmed and pierced his heart repeatedly, causing cardiac arrest the following day and resulting in brain damage.
The court was told his parents, particularly his mother Anne Louise, who is a nurse, had raised concerns about their son's condition immediately after the surgery and the following day and their concerns were ignored.
The day after the operation he went into cardiac arrest and needed emergency surgery to save his life.
During this time his brain was deprived of oxegen and suffered irreversible damage.
Lawyers for the family said medical notes showed it was "absolutely clear as day" what had happened, but the parents were not given an explanation and told what happened was a risk of the original operation on his chest and "just one of those things".
They were not told a mistake had been made despite the fact that what happened was unambiguously recorded in the medical notes along with the concerns raised by the boy's mother.
At the outset of the case lawyers for the hospital strenuously denied there had been any cover-up in the case.
Jude was discharged from hospital and his parents were told he would remain in a vegetative state.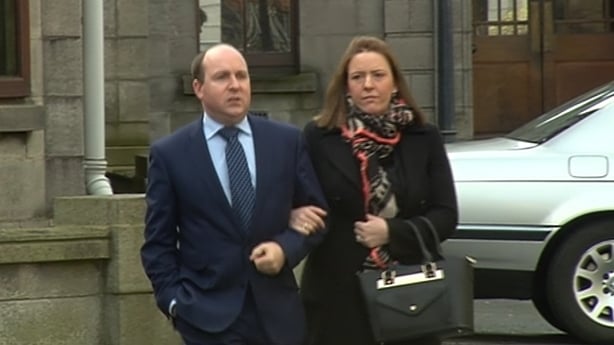 The court was told his parents had "scoured the world" looking for treatment for Jude because services were unavailable for him here.
This resulted in him being able to walk and communicate. They did so with the help of a trust fund set up by friends.
Afterwards the boy's parents sharply criticised what happened to their son and said the situation was compounded by "the lack of honesty and frankness" on the part of the hospital.
"We were led to believe this was an unfortunate complication of the operation. We were told it was just 'one of those things'. We later learned this was certainly not the case." They said their solicitors tried to investigate what happened but were "stonewalled" by the hospital. They were forced to go to the Information Commissioner and the High Court to find out what happened.
The statement added: "Why were they trying to keep secret what happened? Unless errors like this are investigated properly, exposed and publicised, how many more families will be denied the truth? Moreover, how many more times will these mistakes occur?"
The family said it was only after securing a High Court order for disclosure of records that the hospital admitted liability.
"We are so lucky in this country that we have a court system capable of recalibrating the inequality that exists between the inured patients and the powerful medical profession. We were misled. We were stonewalled.  Only for the legal system we don't believe we would have achieved what has been accomplished here today.
"A lot of people criticise the legal system but we can't compliment it enough. It has worked for Jude. What didn't work for Jude however was the failure of the hospital to engage with us and the legal system in an honest open and integral fashion. If they had done so, our journey would have been so much easier and Jude rehabilitated far sooner.
"Jude is our pride and joy; we are and will be devoted to him for the rest of his life. He has significant, complex needs and these needs have now been partly met in financial terms by the settlement today to fund the best care and support for Jude which is after all he had been put through, the least he deserves."
He also thanked their families and friends and those involved with the Jude Miley Trust.
Earlier in court he said Jude "was the happiest child we know".
Mr Miley broke down in tears in the witness box as he thanked his solicitor Susie Elliot.
He said "thank you means so much to us but it sounds like so little."
Mr Justice Cross said someone else needed to be thanked and that was Greville and his wife for the care they had given their son to date.
In recognition of the help they received at a time when they had no money, lawyers for Greville and Anne Louise Miley said they would make a donation to charity out of part of the damages they would receive.