Luas operator Transdev has threatened to impose a 10% pay cut on drivers if they continue their strike action over pay.
The threat came in a letter to SIPTU this evening.
Talks between Transdev and drivers ended yesterday without agreement, although the three non-driver grades voted to accept pay proposals.
They said they would not go out on strike on Thursday even though the drivers are planning to continue their industrial action.
Transdev has warns that if the work-to-rule continues beyond 4am this Friday, and members of the SIPTU driver grade do not commit in writing to carrying out the full range of duties required under their contracts of employment, the company will reduce their pay by at least 10%.
SIPTU Divisonal Organiser Owen Reidy described the move as provocative and outrageous, adding that it would deepen the dispute and make it harder to resolve.
Transdev said it would re-engage with drivers once "a credible basis for negotiations exists".
Managing Director Gerry Madden asked drivers to speak with their union representatives and "ask them what outcome they are hoping to achieve from this continued disruption and at what cost to you the employee and the customer.
"Sensible voices need to emerge".
Iarnród Éireann staff to ballot over pay dispute
Staff at Iarnród Éireann belonging to the National Bus and Rail Union are to ballot for industrial action in their dispute over pay.
In a statement, NBRU General Secretary Dermot O'Leary accused Iarnród Éireann management of refusing to attend the Workplace Relations Commission to discuss issues of concern to members.
He said those issues included ongoing pay cuts, a long overdue pay claim for rail workers, and company proposals to introduce a more frequent 10 minute DART service.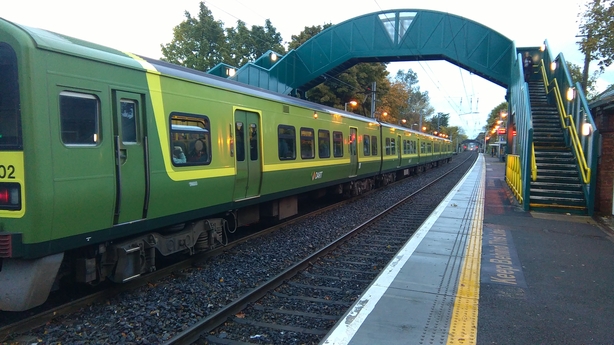 He said it was appalling that what he called this abject failure to cooperate with industrial relations norms could potentially lead to the travelling public and workers being subjected to industrial unrest.
The NBRU is seeking pay rises of up to 25% for members.
Earlier this month, Iarnród Éireann threatened to take legal action against the NBRU amid allegations of unofficial industrial action, which were denied by the union.
This evening, Iarnród Éireann responded by accusing the NBRU of walking out of discussions at the Workplace Relations Commission on the introduction of a 10 minute frequency DART schedule.
In a statement, the company claimed that just yesterday, the union refused to attend a meeting with management to discuss issues surrounding the DART drivers.
It also accused the NBRU of orchestrating unofficial action to prevent in-cab familiarisation training for new DART drivers.
It said that last October, the NBRU had turned down an opportunity to negotiate increases of up to 8% for drivers through productivity measures.
Iarnród Éireann also noted that a temporary 25 month "foregoing" of basic pay ranging from 1.7% - 6.1% will be fully restored in October.
The company said that instead of planning ballots for industrial action, the NBRU should engage with all existing processes to deliver a better service to customers, restore financial stability, and meet employees' aspirations for increased earnings.
Meanwhile, SIPTU has referred its claim for substantial pay increases for its Iarnród Éireann members to the Workplace Relations Commission - and may also consider a ballot for industrial action.