Talks between Fianna Fáil and Fine Gael have ended without agreement on water charges, with more discussion planned for tomorrow.
Minister for Agriculture Simon Coveney said the Taoiseach had made a proposal to Fianna Fáil leader Micheál Martin over the weekend.
He said Fianna Fáil had not come back with a counter proposal.
When asked about the reaction of Fine Gael backbenchers to any compromise proposals, Mr Coveney said the parliamentary party would be meeting over the next 48 hours.
The water charge issue has been a major stumbling block in efforts to form a government in the 32nd Dáil.
Fianna Fáil wants the charges gone but Fine Gael insists a charging regime must remain in place.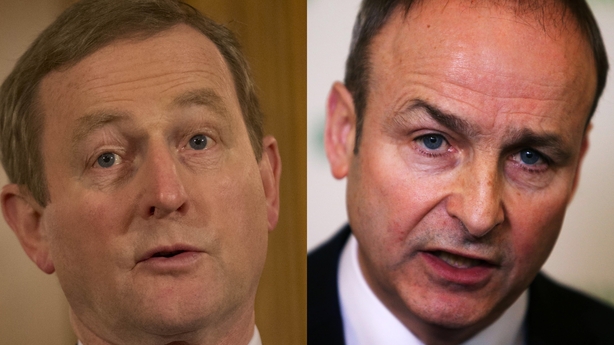 Several Fine Gael backbenchers have expressed surprise and anger at proposals being considered to suspend water charges for a period to allow an independent commission to look at the issue.
Mr Martin has said he believes it is time to bring the water issue to a resolution in the talks.
Speaking in Cork this morning, he confirmed that water was the significant issue that separated both parties and said he looked forward to it being resolved "in the next day or two".
He said there was a clear majority of TDs in the Dáil who were elected on a mandate of suspending or abolishing water charges.
Mr Martin said Fianna Fáil had been reasonable in its engagement with Fine Gael. He said issues around health and housing had been substantially resolved between the parties.
European Commission reiterates 'polluter pays' stance on water
The European Commission has restated its position that principles of the "polluter pays" and "cost recovery" remain the best way for Irish consumers to secure "good quality water" under a binding EU directive on water.
In a statement, Enrico Brivio, spokesman for the European Environment Commissioner, said that by 2010 EU member states were obliged to establish a pricing policy that reflected the "polluter pays" principle.
He said that "charging based on individual consumption" was a "well-established mechanism" for meeting the purposes of the Water Framework Directive.
He said: "Article 9 of the Water Framework Directive required Member States to establish, by 2010, a water pricing policy that implements the principles of cost recovery and polluter pays.
"The water pricing policy should provide adequate incentives for users to use water resources efficiently, thereby contributing to the environmental objectives of the Directive (no deterioration and good status).
"Article 9 is therefore clear about the objectives to be reached. Charging based on individual consumption is a well-established mechanism for meeting the purposes of Article 9."
Mr Brivio added: "Ireland has taken significant steps in recent years to establish a water management system in line with both principles of cost recovery and polluter pays that should provide Irish citizens with water of a good quality for a range of societal benefits.
"The commission continues to believe that cost recovery for users is the best way to secure good water quality (as required by the Water Framework Directive) in a cost-efficient manner."