Sinn Féin Deputy Leader Mary Lou McDonald accused Fianna Fáil and Fine Gael of holding the Dáil to ransom and acting in their own narrow self-interest.
At her party's Ard Fheis in Dublin's Convention Centre, Deputy McDonald said the only difference between the two party leaders is which of them is top dog.
She said both parties had made it clear they did not want Sinn Féin in government and did not want them leading the opposition either.
She said Sinn Féin would talk to anyone but would not prop up a Fine Gael government that favours only the wealthy.
Earlier this evening, Sinn Féin Deputy First Minister Martin McGuinness called for extremes within loyalism and dissident republicanism to be faced down, saying that dissidents were waging war on communities.
Speaking as the Ard Fheis opened Sinn Féin President Gerry Adams said that if Fianna Fáil and Fine Gael cannot agree on a minority government soon, there will have to be a general election.
He called on the negotiating parties to set a deadline for the talks.
"Sort it - nothing focuses the mind of a negotiator like a deadline," he said.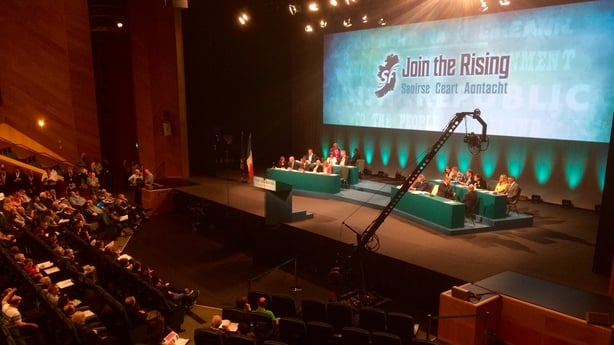 Mr Adams said his party would not support either Enda Kenny or Micheál Martin in any Dáil vote for taoiseach, because a Fianna Fáil or Fine Gael-led government would not best serve the interests of the country.
He added that "if and when" his party's position on entering a coalition government were to change, it would first have to be put before an Ard Fheis.
Later in the evening delegates at Sinn Féin's conference passed motions on the peace process, health and water charges.
Among the motions to be passed was a pledge to review Sinn Féin's policies on cannabis and drugs generally, taking into account other jurisdictions where permissive regulations for medical use have evolved.
There was also support for a motion to establish an Independent Commission on Water charges to examine the most appropriate public ownership model.