Residents of Finglas in Dublin have been mounting protests to prevent modular housing being built in their area.
The protest follows similar action in Ballymun and is understood to be delaying site clearance works for 40 rapid build homes.
It is the latest setback to plans to build modular housing for families currently being put up in hotels.
Residents from the Finglas Action Group have been blocking Dublin City Council workers from entering a site off St Helena's Drive.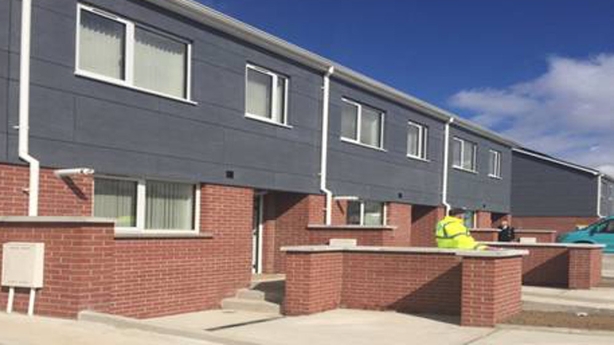 Local residents said the site is unsuitable for transient housing as it already has problems with anti-social activity.
A childcare centre, two schools and a senior citizens complex are also located nearby.
The Dublin Regional Homeless Executive says it has been in talks with local residents and that the families due to move there have local connections.
The Homeless Executive pointed out that 125 new families became homeless in January, while homes were found for just 39 families already in emergency accommodation.
Construction contracts are due to be signed for 40 homes to be built by the autumn on the Finglas site.
It is planned to have 500 such housing units across Dublin.
A spokesperson for Finglas Action Group said that they are concerned the country is moving from a housing to a community crisis.
Sandra Devlin said that there are a number of significant developments planned close to the site in Finglas.
However, there are no plans for jobs or additional services in the area and when asked about any plans Dublin City Council said it is "not their remit," according to Ms Devlin.
She said that in recent years, due to hard work by residents and community groups, Finglas has really come along and all people are welcomed.
However, Ms Devlin said that they object to the houses because planning is being bypassed, with the use of an emergency loophole that was introduced in the 1930s.
She said the local community wanted the protection of the planning laws which recommended integration and the provision of services.
She told RTÉ that developing an estate, to accommodate up to 2,000 people, without adhering to these recommendations is a completely unnatural way to develop an estate.
She added that services in the area are already under-resourced and under great stress but no one has contacted the schools or the health services.
She said that there were at least 100 homes for sale in Finglas that could be used to accommodate the homeless at a far lower cost.
Ms Devlin argued that had the homes gone through the proper planning permission process then all of the local objections would have been listened to and issues of anti-social behaviour and lack of services would have had to be addressed.