Talks between Fine Gael and Fianna Fáil have ended for the evening with more expected to take place tomorrow. 
Fianna Fáil said progress was made during the discussions at Trinity College in Dublin and that they concluded amicably.
It is understood more work will now be done overnight individually by the parties on proposals around water charges.
Minister for Health Leo Varadkar said progress was slow but it was moving in the right direction.
Taoiseach Enda Kenny and Fianna Fail leader Micheál Martin met earlier to discuss the progress of the talks between the parties.
The pair discussed significant changes to Irish Water and water charges during their latest negotiations.
Both sides have played down reports that the meeting had not gone well.
Arriving for the talks this afternoon, Minister for Finance Michael Noonan said the talks are down to five or six net points, with Irish Water obviously one of them.
He said they were seeking compromises and solutions that are in line with the priorities of both parties.
Nothing is agreed until everything is agreed. It's down to 5 or 6 net points, Irish Water is obviously one of them.. pic.twitter.com/1vv9UH1lm7

— Katie Hannon (@KatieGHannon) April 20, 2016
Meanwhile, the chairman of the Labour parliamentary party Willie Penrose has said the party did not get a mandate to re-enter government.
Speaking after a meeting of the parliamentary party, the Longford-Westmeath TD called on those parties that did to "honour their responsibilities to the electorate and end this period of political instability and paralysis."
The Dáil reconvened this morning - the fifth time since the General Election.
The session began with calls from TDs, including Anti Austerity Alliance-People Before Profit's Richard Boyd Barrett and Sinn Féin's Gerry Adams, for a debate on the issue of water charges.
Mr Adams said a motion to scrap water charges had been supported by 33 TDs and cleared for debate, but the government had prevented this. The Dáil had the right to pass laws, as could the current Seanad, he added.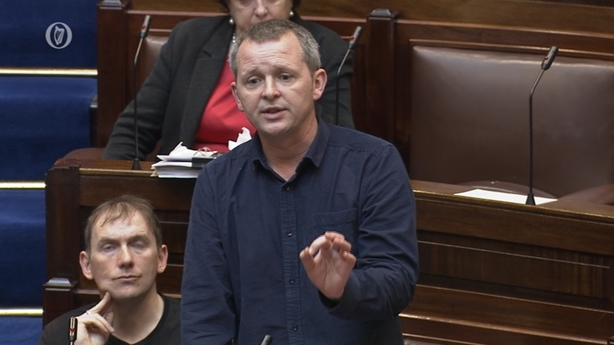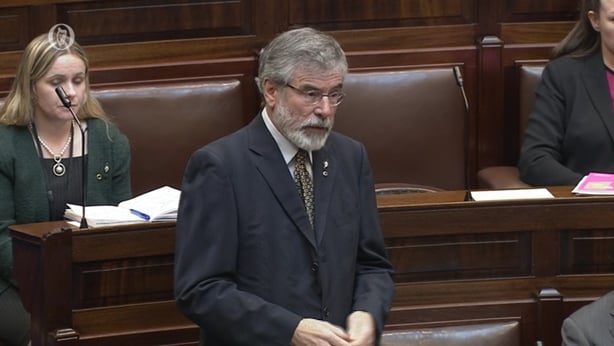 Mr Adams proposed the motion be debated and voted on today once the other business had concluded.
Statements were heard on health and on insurance costs.
A vote on nominations for taoiseach was not on the agenda.
Parties not in contact with 'Rural Alliance'
Independent TD Mattie McGrath has said he is hopeful that Fine Gael and Fianna Fáil will come back with a roadmap for how a successful minority government will work.
He said it was a long time since the election and people are getting frustrated.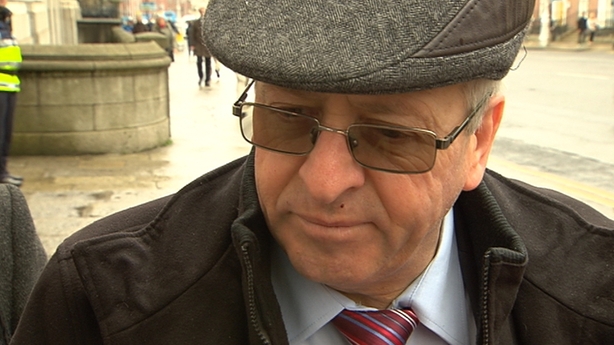 Speaking on RTÉ's Morning Ireland, Mr McGrath said that neither Fianna Fáil nor Fine Gael had been in touch with him or any other member of the 'Rural Alliance'.
He said he was surprised at Independent TD Katherine Zappone's statement that she had received commitments from the government including the establishment of a citizens' assembly to examine the Eighth Amendment.
Mr McGrath said that perhaps Fine Gael has decided it does not need the Rural Alliance.
Estimated €13bn investment needed in water infrastructure
Meanwhile, Irish Water has predicted that it will need to invest at least €13bn to improve the country's water infrastructure.
The company outlined its proposals in a submission to the Energy Regulator.
The investment plan has not yet been published, but has been seen by RTÉ's Prime Time.
Irish Water has conceded that there will not be enough funding available to deliver everything that is needed in the short-term.
Separately, Fianna Fáil TD John Curran has been elected chairperson of the new Committee on Housing and Homelessness.