The death toll from Ecuador's biggest earthquake in decades soared to at least 235 as rescuers using tractors and bare hands hunted desperately for survivors in shattered coastal towns.
The 7.8 magnitude quake struck off the Pacific coast yesterday and was felt around the Andean nation of 16 million people, causing panic as far away as the highland capital Quito and collapsing buildings and roads in a swathe of western towns.
President Rafael Correa, who was rushing home from a trip to Italy, said: "The immediate priority is to rescue people in the rubble."
More than 1,500 people were injured, authorities said.
Dept aware of #earthquake in #Ecuador. Anyone with concerns for Irish citizens can call +353 1 408 2000 #EcuadorEarthquake

— DFATravel (@dfatravel) April 17, 2016
Coastal areas nearest the quake were worst affected, especially the tourist town of Pedernales. Information was scant from there due to poor communications and transport chaos.
"There are people trapped in various places and we are starting rescue operations," Vice President Jorge Glas said this morning before boarding a plane to the area.
A state of emergency was declared in six provinces.
"There are villages totally devastated," Pedernales' mayor Gabriel Alcivar told local radio, adding that "dozens and dozens" had died in the area.
"What happened here in Pedernales is catastrophic."
Authorities said there were 135 aftershocks in the Pedernales area.
Local TV station Televicentro broadcast images from Pedernales showing locals using a small tractor to remove rubble and also searching with their hands for people buried. Locals said children were trapped.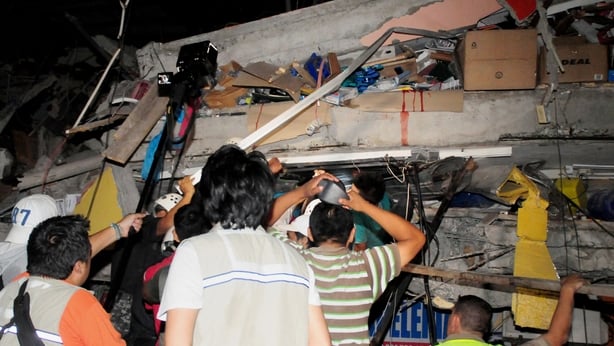 In Guayaquil, Ecuador's largest city, rubble lay in the streets and a bridge fell on top of a car.
"It was terrifying, we were all scared and we're still out in the streets because we're worried about aftershocks," said Guayaquil security guard Fernando Garcia.
About 13,500 security force personnel were mobilised to keep order around Ecuador, the government said.
Ramon Solorzano, 46, a car parts merchant in the coastal city of Manta, said he was leaving with his family.
"Most people are out in the streets with backpacks on, heading for higher ground," Mr Solorzano said. "The streets are cracked. The power is out and phones are down."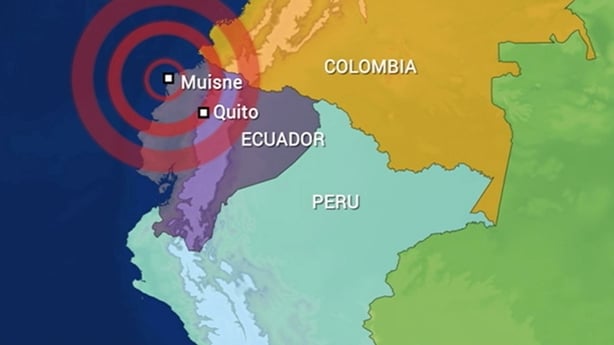 A tsunami warning was lifted last night but coastal residents were urged to seek higher ground in case tides rise.
The government called it the worst quake in the country since 1979. In that disaster, 600 people were killed and 20,000 injured, according to the United States Geological Survey.
Among international aid, Venezuela and Mexico were sending personnel and supplies, the government said.