At least one person died and nine others were missing today after a five-storey building collapsed on Tenerife, local officials said.
Rescuers with dogs were still at the scene late this evening searching the debris for survivors.
Three people, including a 28-year-old Italian man who suffered a broken arm, were rescued from the rubble, with two requiring hospital treatment.
"The building had 28 occupants of which nine still have not been found," Arona mayor Julian Mena told a news conference.
The building, located in the beach area of Los Cristianos in the south of Tenerife, collapsed at around 9:30 am local time. The cause was not immediately clear.
A spokeswoman for local firefighters said families had tried and failed to contact missing relatives.
"These are people who are not answering the telephone, we can't say that they are in the building, but the truth is that right now their families have not been able to contact them," she said.
Tenerife, the largest of Spain's Canary Islands off the northwest coast of Africa, are a popular destination for British holidaymakers and retirees.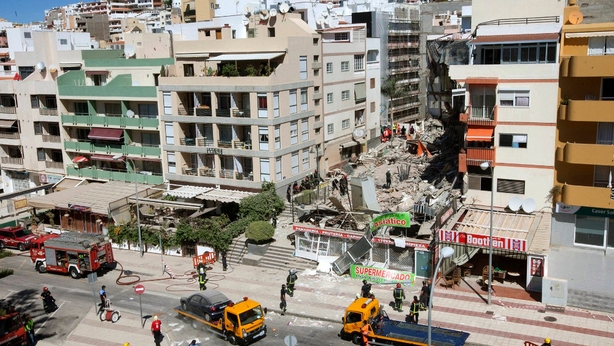 Derrumbe parcial de un edificio en Los Cristianos - #Tenerife @LOS_JARDINEROS pic.twitter.com/PhsTHyN0yv

— InfoEmergencias (@InfoEmerg) April 14, 2016
PRIMEROS instantes del derrumbe del edificio en Los Cristianos, #Arona, sur de #Tenerife @rafaleonortega pic.twitter.com/65ZVX4Ni62

— InfoEmergencias (@InfoEmerg) April 14, 2016
Embassy is aware of the collapse of a building in Tenerife this morning. If you are concerned for a loved one, call DFA on +353 1 4082000

— IrelandEmbassyMadrid (@IrlEmbMadrid) April 14, 2016