Student reunited with man whose life she saved
Transition year student Victoria Williams-Gaine has been reunited with Florin Popa, the binman whose life she saved last month.
The 16-year-old student performed lifesaving CPR on Mr Popa, after he collapsed and suffered a heart attack, outside her home in Shankill on 23 March.
Today Mr Popa visited Victoria at her school, St Joseph of Cluny in Killiney, Co Dublin, and presented her with a bouquet of flowers.
Panda Waste, the company Mr Popa is employed with, also donated a defibrillator to the school as a token of their gratitude.
Mr Popa, orginally from Romania, is recovering after his heart attack. He has not yet returned to work.
Transition year student reunited with man whose life she saved. This and other News in Brief https://t.co/NV5hc0yI45https://t.co/TOxaVtMpZw

— RTÉ News (@rtenews) April 14, 2016
Russia respected safety rules in US warship flyby - Interfax
The crews of the Russian Su-24 bombers which flew near a US guided missile destroyer in the Baltic Sea on Tuesday respected all safety rules, Interfax news agency quoted Russian Defence Ministry spokesman Igor Konashenkov as saying.

The US military said that the warplanes had simulated attack passes near the USS Donald Cook, with one official describing them as one of the most aggressive interactions in recent memory.
A Russian KA-27 Helix helicopter also made seven passes around the USS Donald Cook, taking pictures.
The nearest Russian territory was about 70 nautical miles away in its enclave of Kaliningrad, which sits between Lithuania and Poland.
Sport Ireland to discuss MMA guidelines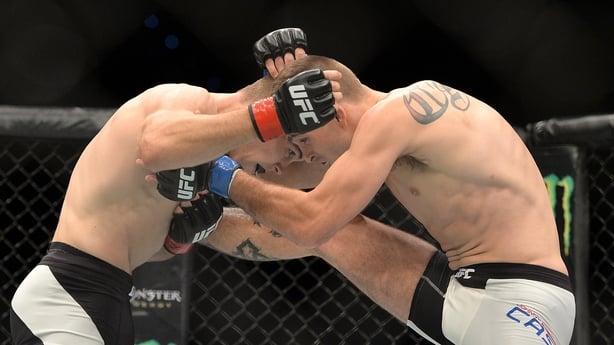 Sport Ireland CEO John Treacy has said that Mixed Martial Arts has no place in Ireland unless the sport implements rules and guidelines that Sport Ireland is going to bring forward.
He described the sport as "extreme and high risk" and lacked the structure of a national organising body.
Mr Treacy Sport Ireland will meet this week with Department of Sport officials to produce regulatory guidelines for the sport in light of the death of Portuguese fighter Joao Carvalho in Dublin earlier this week.
He said the "high risk" sport needs to be examined carefully so that safety of fighters is 'paramount'.
Call for restoration of public sector pay
The General Secretary of the PSEU - the union representing executive grades in the civil service and the wider public sector - has called for a more speedy restoration of pay in light of the economic recovery.
Speaking on RTÉ's Morning Ireland, Tom Geraghty said public sector workers had seen two or three pay cuts since 2009.
He said these cuts were taken in the context of a "fiscal emergency" and in circumstances where the economy is recovering well, it is "not sustainable to tell public servants to wait until 2018 before any additional pay is restored".
Union members have begun to see some restoration of pay as part of the Lansdowne Road Agreement, but Mr Geraghty said more to happen and soon.
Australian village, including cows, on sale for $10 million
A small, picturesque Australian village has been listed for sale, attracting interest from China and Singapore, with its new buyer set to own dozens of homes, a lake full of fish and 35 Highland cattle.
Property agents said they hoped the 145-hectare) Tarraleah village in the heart of Tasmania state would fetch up to Aus$13 million (€8.8m).
The village in the Central Highlands was originally built in the 1920s and 1930s to support 2,000 hydroelectric workers, but as the dams and power stations servicing southern Tasmania became automated, staff were no longer required.
Property developer Julian Homer eventually bought the entire village, which had become run down, restoring the art-deco buildings to turn it into a tourism-focused site - it currently has no permanent residents, only tourism-related staff.
NUI Galway welcomes gender quota recommendations
NUI Galway has welcomed recommendations that mandatory gender quotas be introduced to boost the number of women in senior staff positions, one of 23 recommendations contained in the report of a gender equality task force.
The University says it is fully committed to implementing the measures proposed. A draft of the report has been circulated to staff members and it is understood the final version will be published next month.
The task force was set up after NUI Galway lost an Equality Tribunal case in relation to the appointment of a senior academic.
The University says it has already introduced a number of measures which were recommended in an interim report last year. This includes the appointment of a dedicated Vice President for Equality and Diversity.