A senior Fianna Fáil source has said tomorrow is the last opportunity for independents to vote for Micheál Martin as taoiseach and to support a Fianna Fáil-led minority government.
Speaking to RTÉ News, the source said it was time for independents to call Fine Gael's bluff.
He also said it was unreasonable that Fine Gael would not support a Fianna Fáil-led minority government.
Talks between Fianna Fáil and Fine Gael on government formation ended for the night with a Fine Gael source saying the party's negotiators were "frustrated and disappointed" at what they said was the unwillingness of Fianna Fáil to engage on policy matters.
The source said it was not clear where the process would go from here.
The talks had been expected to deal with issues of policy, but ended before that point had been reached.
A separate Fine Gael source said Fianna Fáil had been due to meet his party negotiators around 8pm to exchange policy documents but Fianna Fáil had called off the meeting.
A Fianna Fáil source has since confirmed that the party's policy document was not ready to give to Fine Gael.
The talks are expected to continue tomorrow.
Fianna Fáil put Independents in spotlight for Dáil vote - @MartinaFitzg reports https://t.co/7SEAZAFz1g

— RTÉ News (@rtenews) April 13, 2016
Earlier, the Fine Gael parliamentary party decided to support forming a partnership government or a Fine Gael-led minority government.
The decision was taken at a meeting of Fine Gael TDs and Senators in Leinster House this evening.
A second motion passed by the party re-stated Fine Gael's position on water.  
Before the meeting ended, Taoiseach Enda Kenny told them that at this stage the vote on nominations for taoiseach is going ahead tomorrow.
Since Monday, Fine Gael and Fianna Fáil negotiating teams have been holding talks.
Substantive details of the talks have not been disclosed.
The initial talks were delayed on Monday after Fine Gael sought clarification on whether Fianna Fáil was calling off its campaign to form a minority government.
But it is understood Fianna Fáil negotiators have consistently said that the independents will decide who they will support and some are leaning towards Fianna Fáil.
This issue has not gone away, it is understood, and the parties have also been concentrating on how a minority government would work in practical terms. 
Outside the negotiations, the independents are waiting to see what emerges and if they can sign off on any agreement.
Politicians did not envisage talks concluding before vote
Earlier, two senior Fine Gael politicians said they did not envisage the talks concluding ahead of the planned vote tomorrow.
Minister for Health Leo Varadkar said if it is possible to find agreement today with Fianna Fáil then the parties would do so, but added that he could not predict how things were going to go.
However, he reported progress in the negotiations.
Minister of State for Tourism and Sport Michael Ring said TDs had a responsibility to form a government.
"I'm not sure whether these talks will be completed by tomorrow. We need a government.
"People have elected 158 TDs and we all have a responsibility to formulate a government and we need to do that quickly and we need to get up and running as a government."
Mr Varadkar said pretty good progress had been made in the first full day of the talks between the parties and described the mood as very professional.
Asked about Irish Water, he said the parties had agreed that they stood the best chance of succeeding if all negotiations took place across the table and not in the media.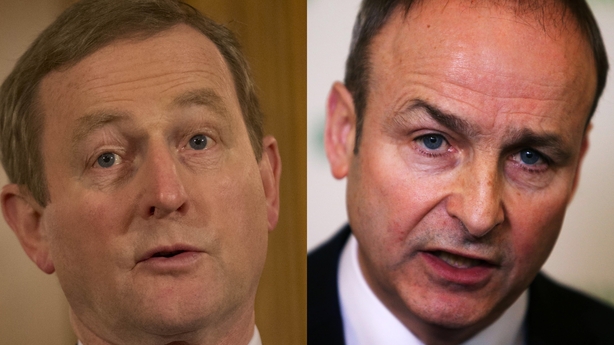 The objective of the talks as far as Fine Gael is concerned was to put in place a Fine Gael-led minority government for the next couple of years to give the country a stable government, he said.
But he said he appreciated that Fianna Fáil might have a "slightly different view" to that.
47 days have now passed since the General Election. 
The 32nd Dáil has twice failed to ratify nominations for taoiseach. 
Halligan withdraws from talks in protest over hospital issue
Independent TD John Halligan, meanwhile, has pulled out of the talks with Fianna Fáil and Fine Gael over priorities for government.
The Independent Alliance had been discussing policy papers with the two main parties.
Mr Halligan said this morning he was withdrawing in protest over the failure to provide cardiac emergency services at Waterford University Hospital.
He said the Health Service Executive's handling of the issue, which is the centre of controversy in the region, had been intolerable and he had decided to withdraw from the talks as a result.
Mr Halligan said figures he had obtained showed that the hospital greatly exceeded the criteria for 24-hour cardiac care but he had been fobbed off in recent days by the HSE.
Independent TD Denis Naughten said if the two main parties did agree a framework for government then TDs would need time to study it.