A Europe-wide report on the multi-billion euro illicit drugs market highlights the involvement of Irish gangs on a global scale but also the involvement of international criminal gangs in the drugs trade in Ireland.
According to the EU Drug Markets Report 2016, ethnic Vietnamese crime gangs have been active in Ireland for some time and are also involved in other forms of crime such as human trafficking.
These gangs run their own plantations, sell technical expertise in setting-up such plantations to other gangs, according to the report.
Lithuanian crime gangs are also co-operating with Irish gangs to traffic methamphetamine here.
Compiled by the European Monitoring Centre for Drugs and Drug Addiction and Europol, the report found that Irish criminal gangs have connections with drug cartels in South and Central America which facilitate the direct importation of cocaine into Ireland.
The report also suggests that Irish gangs have been using South Africa as a trans-shipment point for drugs.
On a scale of the proportion of global seizures for ecstasy, Ireland comes fifth - behind Turkey, the USA, Indonesia and Australia.
The report also refers to a survey which shows young adults in Ireland aged between 15 and 24 are the highest users in the EU of new psychoactive substances and so-called legal highs.
EU citizens spend more than €24bn every year on illegal drugs such as cannabis and heroin, according to the report, warning of links between the trade and terrorism.
"The impacts that drug markets have on society are correspondingly large and go beyond the harms caused by drug use," said the report.
"They include involvement in other types of criminal activities and in terrorism."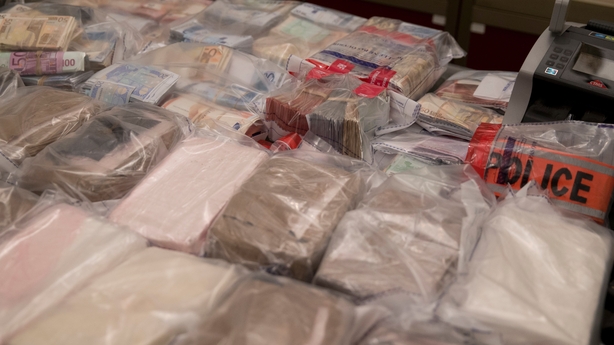 Citing the most recent available figures, it said cannabis led in 2013 with 38% of the market, followed by heroin at 28%, cocaine at 24%, amphetamines at 8.0% and ecstasy at 3%.
After several years that saw a drop in the amount of heroin seized mainly from Turkish, Albanian-speaking and Pakistani crime syndicates, supply picked up in 2013 while street prices decreased, it said.
The report estimated the number of heroin users at 1.3 million in Europe.
Wholesale importation of cocaine into Europe, with some 3.6 million users, remains dominated by Colombian and Italian groups, although Nigerian and Balkan dealers are gaining a foothold.
Cocaine dealers "not only use corrupt lawyers and accountants ... but are believed to engage in the systematic recruitment of corrupt workers at all major seaports and airports in the EU," the report said.
It listed cocaine smuggling in maritime containers as "a major threat".