Three senior Fianna Fáil members have said the party is working on a bill to scrap Irish Water and suspend charges.
During the General Election campaign, Fianna Fáil said it wanted to suspend the charges for five years.
A senior Fine Gael minister, who is a member of the negotiating team, said the principle of charging and metering is a red line issue.
The issue of water charges has not been raised by independents attending talks with Fine Gael at Government Buildings.
However some members of the Independent Alliance, including Michael Fitzmaurice and Kevin 'Boxer' Moran, have raised the issue with Fianna Fáil.
They have sought clarity on what happens to those on group water schemes if the charges are suspended for others and whether they will be compensated for what they have paid.
Independent TD Mattie McGrath has also raised it with the Fianna Fáil negotiating team.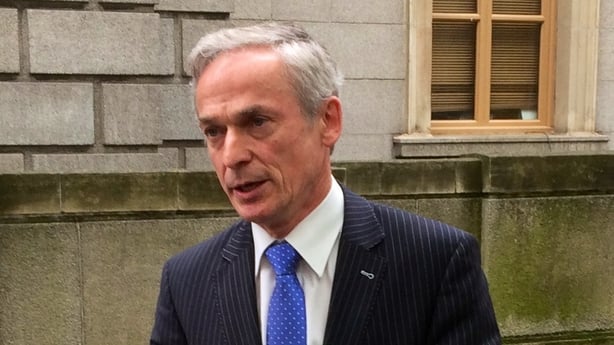 Earlier, Minister for Jobs, Enterprise and Innovation Richard Bruton said he is confident a stable government can be formed but the process will take time.
Mr Bruton said Fine Gael is in deep discussion with potential partners and has offered talks to all parties who were willing to participate.
Fine Gael will continue talks with independents until the Dáil session resumes on Wednesday, during which a vote for Taoiseach nominations will take place.
He added that Fine Gael looked forward to talks with Fianna Fáil later this week.
Mr Bruton said that the environment was complex and taking time to form a government was the right thing to do.
"I'm confident that we will come to an agreement at some point and find a root to a stable government because that's the hand that the public have dealt us and we have to learn new ways," said Mr Bruton.
"Indeed, I see huge opportunities in this because I think if the Dáil can learn to manage its business in different ways this can be an opportunity to achieve much more and have a much more open accountable transparent system, not only of politics but of delivering public services."
Mr Bruton said an election "is a possibility" but with good will on all sides a new framework of working both in government and the Dáil can be reached.
He added Fine Gael has made it clear that it will not support a Fianna Fáil-led minority government as Fianna Fáil does not have sufficient numbers.
Asked in Dublin this morning about the possibility of another election if a coalition government is not formed shortly, Minister for Transport Paschal Donohoe said that of course there was always the possibility of an election given the position we are in.
Independent TD Mattie McGrath, meanwhile, has criticised Minister for Health Leo Varadkar for tweeting a picture of his election posters along with the comment they were "ready to be deployed".
My posters cleaned, counted, stored and ready to be deployed pic.twitter.com/TPiAU1ZMcM

— Leo Varadkar (@campaignforleo) April 3, 2016
Mr McGrath said it was ill-considered and unhelpful while government formation talks were still ongoing.
"While most of us have made some comment on the challenges surrounding the process that is currently under way," said the Tipperary TD, "this tweet actively reveals that a key leading member of the Fine Gael negotiating team is far from committed to making to making that process work".
Meanwhile, Independent TD Denis Naughten has said that the group of rural independents consisting of himself, Michael Collins, Michael Harty, Noel Grealish and Mr McGrath has been actively engaging with all parties and will continue to do so.
Speaking on his way into talks with Fianna Fáil this morning, Mr Naughten said that at this stage they are looking at developing a common policy platform, but that at the end of the day they cannot go any further until the two big parties sit down and agree the ground rules about how a new government is going to operate.
Until this happens, he said, we are very much in a void.
When asked about the vote for taoiseach on Wednesday, Mr Naughten said that the independent rural group will sit down on Wednesday morning to go through the progress that they have had with all the political parties and make an assessment based on that.
A Fianna Fáil document on housing given to independents today reiterates its pledges to ensure NAMA provides 20% social housing and that the party will introduce a bill to protect consumers from vulture funds within six months.
It also reiterates its pledge to invest an additional €334m a year in social housing strategy and initiate a first-time buyers' grant within the next 12 months.
It also wants to retain mortgage interest relief beyond 2017, address the issue of variable mortgage rates, and allow credit unions offer mortgage services.
Earlier, Fianna Fáil's Michael McGrath met with senior officials in the Department of Finance and Department of Public Expenditure and Reform for a briefing on the state of the economy and public service pay.
Elsewhere, a spokesperson for Kerry TDs Michael and Danny Healy Rae said that the brothers intend to ascertain what the Fianna Fáil position is regarding Irish Water and the USC.