The California District Attorney investigating last summer's Berkeley tragedy will not be bringing any criminal charges in connection with the collapse of a balcony that killed six young people and injured seven others.
Nancy O'Malley said that following a nine-month investigation her office had concluded that there was "insufficient evidence" to bring criminal manslaughter charges against any one individual or company.
On 16 June last year, an apartment balcony at the Library Gardens complex in Berkeley collapsed as young people celebrated a 21st birthday.
Six young people were killed, including five Irish students. Eoghan Culligan, Lorcán Miller, Niccolai Schuster, Eimear Walsh, Olivia Burke and Ms Burke's Irish-American cousin Ashley Donohoe died in the collapse.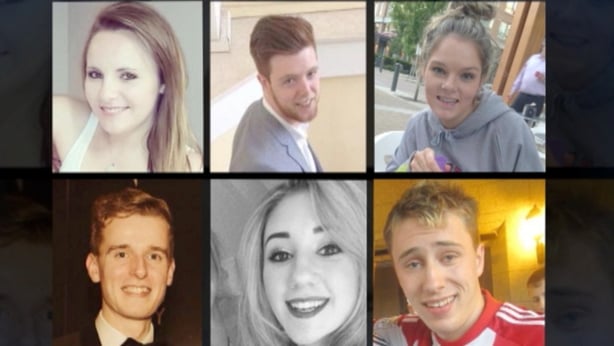 Another seven people;- Clodagh Cogley, Hannah Waters, Aoife Beary, Sean Fahey, Jack Halpin, Niall Murray and Conor Flynn, were injured.
An initial investigation by Berkeley city authorities found significant water damage had caused dry rot in the wooden joists holding the balcony deck in place.
A second balcony was removed for safety.
Within days the Alameda County District Attorney launched a criminal investigation.
In a statement today, Ms O'Malley said: "Not a day has passed….that I have not thought of the victims and their families. I am keenly aware of the devastation and injuries each victim and each family suffered and continues to confront.
"Friends, families and entire communities both in California and in Ireland have been affected by the horror of that day."
DA O'Malley explained that the decision not to bring criminal manslaughter charges was "not a decision that I came to lightly. It is the culmination of months of consultation with my team of attorneys.
"It follows extensive review of reports, both legal and factual, and numerous meetings with investigators and experts."
Her office provided substantial resources to the investigation, she said, and that had involved a large team of prosecutors, investigators and multiple state agencies.
A major part of the physical investigation was forensic destructive testing on the remains of the balcony. This was removed to a secure location and the testing was carried out last October with representatives of the victims, their families and the construction and development companies present to observe.
Following those investigations, the District Attorney's office has concluded that the balcony collapsed because "water had been trapped in the deck" during the construction phase…which had led to "eventual and extensive dry rot damage".
Many factors caused this water trap, including "the types of materials that were used" - although all material was in line with building code regulations - and the "very wet weather" in Berkeley at the time of construction.
The apartment complex was completed in January 2007.
In order to file a manslaughter case, the DA needed to be "satisfied" that an individual or company acted with "disregard for human life" and that "the deadly consequences of those actions were reasonably foreseeable".
Proof of that was not present in that case, according to the DA's office.
The investigation was led by the Assistant District Attorney Kevin Dunleavy who said the office was not satisfied that it had enough evidence to prove any charges beyond a reasonable doubt before 12 jurors who would need to unanimously agree to secure a conviction.
The DA's office said it would continue to work with industry bodies and state lawmakers to "consider amending building codes and inspection oversight laws so that tragedies like this never occur again".
Separately, civil legal proceedings are ongoing before the Superior Courts in California as the injured and the families of those killed are suing over 30 companies for damages.
In a statement to RTÉ News, the lawyers representing most of the bereaved families and the injured students - Walkup, Melodia, Kelly & Schoenberger - said that "most legal experts" had not expected criminal charges given the "high burden of proof" required to secure a conviction.
However, they said the DA's office had "thoroughly and carefully" investigated the case, and that the investigation would benefit their civil actions, which they would now pursue "in earnest".
The statement continued that it remained their "quest to uncover the truth, hold those responsible accountable" and to change industry practices to "prevent such a needless tragedy" from happening again.
Members of their San Francisco based legal team are currently in Ireland to meet with the families.
Lawyers for the family of Ms Donohoe tonight issued a statement saying the family is disappointed as they believe "the criminal justice system would act as a deterrent for other corporations and builders to engage in similar grossly negligent behaviour.
"There is a deep desire for this case to act as a lesson for other builders and avoid a tragedy like this from happening again."
ADA Dunleavy said that the District Attorney's Office had been in contact with the bereaved families and those injured to inform them they would not be bringing criminal charges in advance of making their decision public.
Minister for Foreign Affairs Charlie Flanagan said his department will consider carefully the details of the DA's findings.
In a statement, he said: "While the District Attorney's investigation did not find sufficient proof to take separate criminal proceedings, it has shone a vital light on the circumstances and factors that contributed directly and indirectly to the collapse of the balcony.
"This investigation is an important step in a process, the ultimate objective of which is to ensure that a tragedy such as Berkeley never occurs again".