A hijacker who seized an Egyptian airliner and forced it to land in Cyprus has been detained, officials said.
"The hijacker has just been arrested," Cypriot government spokesman Nicos Christodoulides said on Twitter, without providing further details.
A man emerged from the aircraft and then walked across the tarmac and raised his hands to two awaiting counter-terrorism police officers.
The officers laid him on the ground and searched him for around two minutes before taking him away.
Its over. The #hijacker arrested. #LarnacaAirport # Egyptair

— Cyprus MFA (@CyprusMFA) March 29, 2016
The hijacker had claimed to be wearing an explosives belt when he took over the plane.
The plane had been flying from Alexandria to Cairo when it was hijacked this morning.
After the aircraft landed at Larnaca airport, the hijacker released everyone on board except three passengers and four crew following negotiations, Civil Aviation Minister Sherif Fathy said.
A senior official of Cyprus's foreign affairs ministry said the hijacking did not appear to be terror-related.
"What we have clarified ... is that its not about terrorism. It appears to be a person who is unstable, in an unstable psychological state and the issue is being handled accordingly," foreign ministry official Alexandros Zenon said.
The remaining passengers and crew left on board were seen leaving the aircraft at around 12.30pm, including one man who climbed out the cockpit window.
Watch: Man climbs out of cockpit window moments before Egypt Air hijack is declared overhttps://t.co/KugyGEI98h

— RTÉ News (@rtenews) March 29, 2016
Eighty-one people, including 21 foreigners and 15 crew, had been on board the Airbus 320, Egypt's Civil Aviation Ministry said in a statement.
Egyptian Prime Minister Sherif Ismail said the man was an Egyptian national who had asked to meet European Union officials or to fly on to another airport.
He told reporters that authorities would question the hijacker to ascertain his true motives, which remained a mystery.

"At some moments he asked to meet with a representative of the European Union and at other points he asked to go to another airport but there was nothing specific," he said.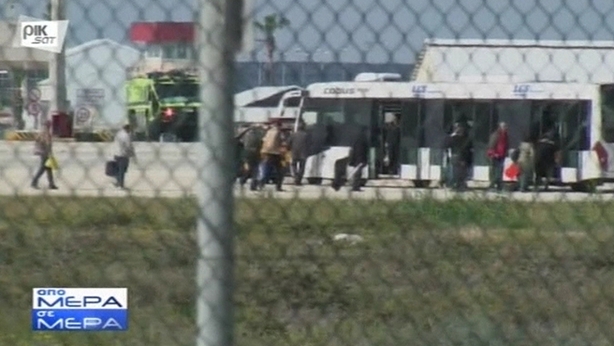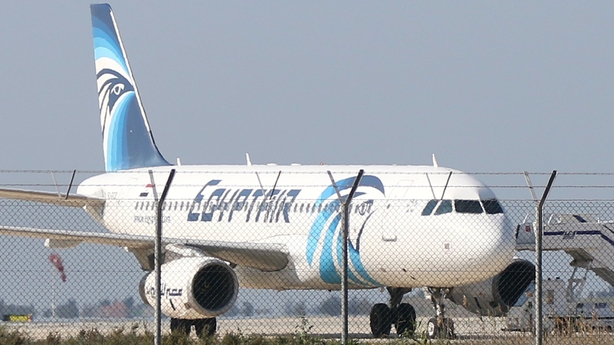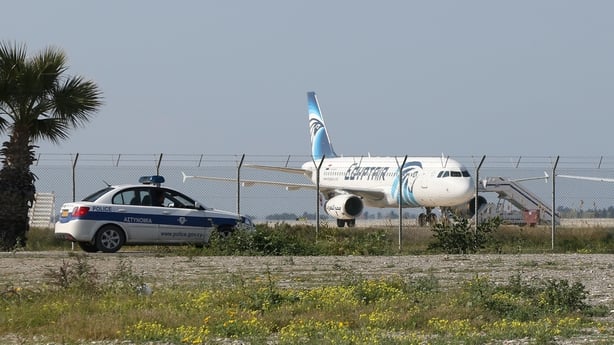 Security sources in Egypt said a separate New York-bound flight from Cairo was delayed due to security fears related to the hijacking. They gave no more details.
Egypt's official state news agency MENA initially named the hijacker as Egyptian national Ibrahim Samaha but later said he was called Seif Eldin Mustafa.
The Cypriot Foreign Affairs Ministry also identified the hijacker in a tweet as Mustafa.
According to the BBC's Victoria Derbyshire programme, Mr Samaha said: "I was not the hijacker, I was simply a passenger on that plane and I was released alongside other passengers and had absolutely nothing to do with hijacking the plane.
"We did not know what was going on. We got on board the plane and we were surprised that the crew took all our passports, which is unusual for a domestic flight.
"After a while we realised the altitude was getting higher, then we knew we were heading to Cyprus. At first the crew told us there was a problem with the plane and only later did we know it was hijacked."
The Civil Aviation Ministry said the plane's pilot, Omaral-Gammal, had informed authorities that he was threatened by a passenger who claimed to be wearing a suicide explosives belt and forced him to divert the plane to Larnaca.
"We do not know until now if this was a threat or if he was really wearing an explosive belt," Mr Fathy told the news conference, adding that the hijacker was not carrying a gun.
Witnesses said the hijacker threw a letter on the apron of the airport in Larnaca, written in Arabic, asking that it be delivered to his ex-wife, who is Cypriot.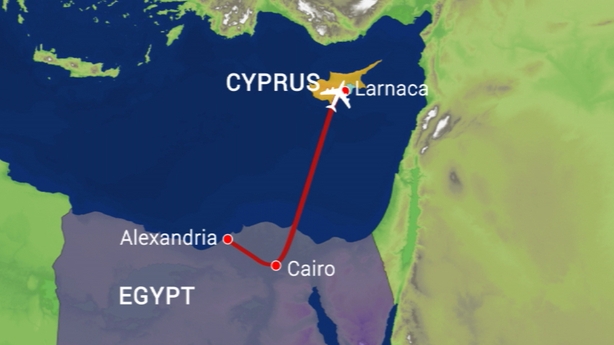 Passengers on the plane included eight Americans, four Britons, four Dutch, two Belgians, an Italian, a Syrian and French national, the Civil Aviation Ministry.
The Dutch Foreign Ministry said earlier a Dutchman was among the foreigners still aboard.
Egypt said it would send a plane to Cyprus to pick up stranded passengers, some of whom had been traveling to Cairo for connecting flights abroad.
The Department of Foreign Affairs said none of the passengers was travelling on an Irish passport and the department has received no requests for consular assistance.
Our flight MS181 is officially hijacked. we'll publish an official statement now. #Egyptair

— EGYPTAIR (@EGYPTAIR) March 29, 2016