Sectarianism and division in Ireland must be tackled if the vision of the 1916 Rising is to be realised, Gerry Adams told a centenary commemoration in Belfast.
The Sinn Féin president addressed a crowd of thousands at Milltown Cemetery in the heart of his former parliamentary constituency in the west of the city at the culmination of a parade organised by his party to mark the Easter Rising.
The Louth TD said 100 years on from the pivotal moment in Irish history, much work was still needed to create the society envisaged in the leaders' proclamation of independence and to heal divisions between unionists and nationalists.
"The peace process and the Good Friday Agreement marked a historic shift in politics on this island," he said.
"For the first time, the roots of conflict were addressed and a democratic route to Irish unity opened up.
"But there is much yet to be done. Hurts must be healed, divisions ended and the scourge of sectarianism must be tackled."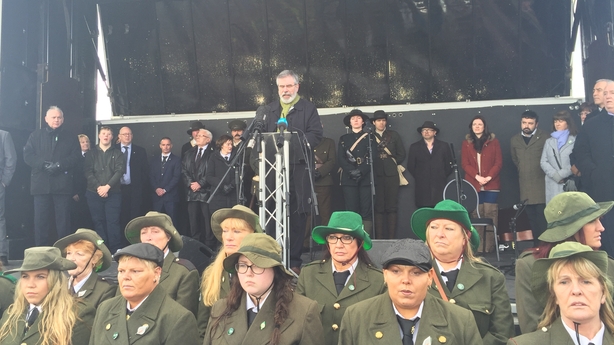 Crowds lined both sides of the Falls Road as the parade passed by with an Irish wolfhound called Tara at the lead.
A pipe band played republican anthems and many participants dressed in military uniforms of the period, some carrying replica weapons.
The parade ended at the republican plot at Milltown Cemetery, where wreaths were laid.
Mr Adams told the crowd: "For our part, the 1916 Proclamation remains the mission statement for Irish republicans today.
"It is a freedom charter for all the people of this island which guarantees religious and civil liberty and promotes equal rights and opportunities for all citizens.
"The Proclamation is also a declaration of social and economic intent for a rights-based society in which the people are sovereign," added Mr Adams.