Belgium's federal prosecutor has confirmed that Najim Laachraoui was one of the two suicide bombers who struck Brussels airport this week in a series of attacks which left 31 people dead.
A statement from the prosecutor's office also linked Laachraoui to November's Paris attacks in which 130 people died, saying his DNA was found on a suicide vest and a piece of cloth discovered at the Bataclan, the concert hall where 90 people were killed.
Police also found his DNA on a bomb at the Stade de France.
Meanwhile, Belgian police captured a suspect carrying what a broadcaster said was a suitcase full of explosives, after shooting him in the leg during a major police operation.
The federal prosecutor's office said the arrest was one of three in Brussels today linked to the arrest in Paris yesterday of an Islamist militant convicted in Belgium last year and suspected of plotting a new attack.
Nine people in total were arrested since yesterday in Belgium and two in Germany, as European authorities have swooped on militants they link both to the Brussels attacks that killed 31 people and to attacks in Paris last November that killed 130.
View profiles of all of the Belgian terror attacks suspects here.
Heavily armed police and troops with trucks cordoned off an area around a major intersection in the northern Brussels borough of Schaerbeek today.
Three blasts could be heard, which the local mayor Bernard Clerfayt said were controlled explosions.
Belgian public broadcaster RTBF quoted Mr Clerfayt as saying the suspect was detained after being wounded and that he was linked to Tuesday's suicide bombings in Brussels.
The broadcaster said he was in possession of a suitcase full of explosives.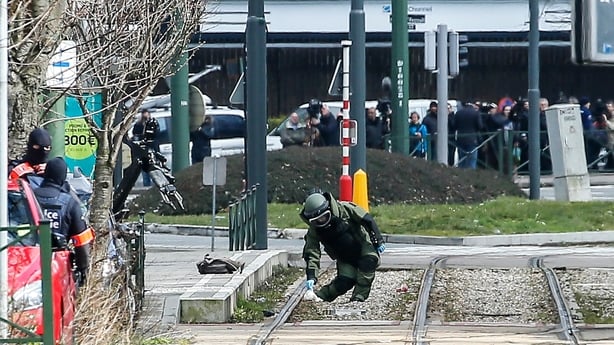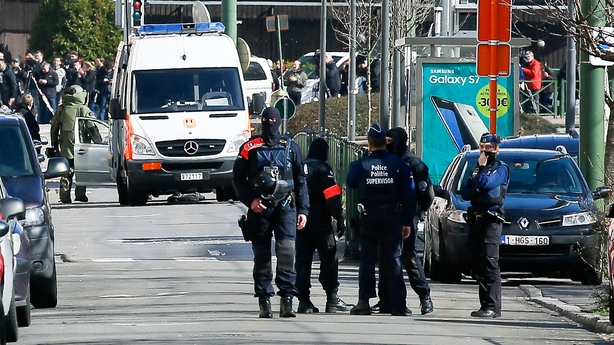 Witnesses told local media that police had shot the man in the leg at a tram stop after he failed to respond to their orders. One witness told RTBF the man had a girl of about eight with him.
"I heard two explosions, they were shooting. I opened the window and saw a man lying near the tram stop. The police ordered him to show his hands, remove his jacket. They said that if he did not comply, they would use their weapons," a witness told La Libre newspaper.
Video from the scene showed the man lying on his side, shattered glass from the tram shelter smashed by bullets at his feet. A bomb squad robot approached the wounded man, checking for explosives.
schaerbeek meiser vers 13h, 25/ 03/ 2016 pic.twitter.com/nupcMcSC5L

— makiona david (@makionagisa) March 25, 2016
Self-styled Islamic State suicide bombers hit Brussels airport and a metro train on Tuesday in the worst such attack in Belgian history.
Investigators believe those attacks were carried out by the same cell responsible for November's gun and bomb attacks in Paris.
The Belgian federal prosecutor's office said six people were held in Brussels yesterday, of whom three were released and three were remanded in custody facing possible charges.
Three others were detained today following the arrest in France of Reda Kriket, a 34-year-old Frenchman sentenced to 10 years in Brussels in absentia in July as part of a Islamist recruiting network dubbed the Syrian Connection.
Germany's Der Spiegel magazine said German police had arrested two people, one of whom had received phone messages with the name of the metro station bomber and the word "fin" - French for "end" - three minutes before the metro blast. The German interior ministry declined to comment.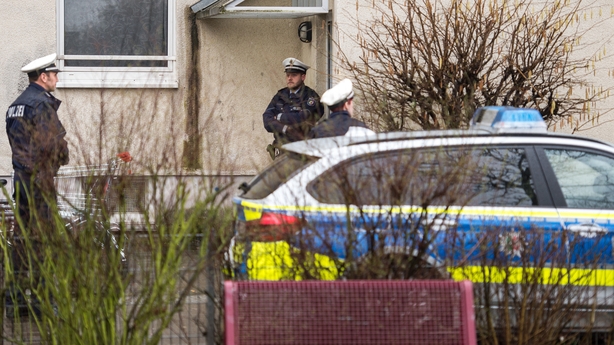 A person familiar with the investigation in Belgium said one of the people arrested there was believed to be a suspected accomplice caught on security camera footage with the metro station bomber.
"We have strong indications that this is the suspect who was hunted for the last couple of days. The identification is still ongoing," the source said.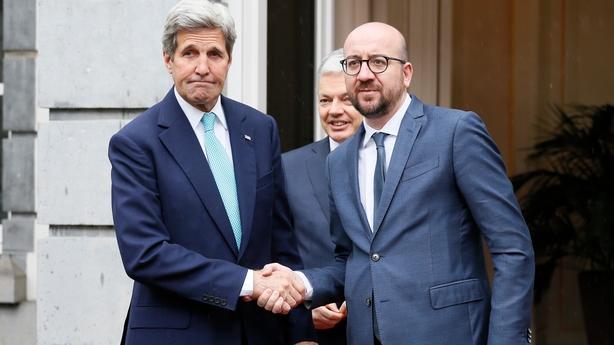 Two US citizens confirmed killed in attack
Two US citizens were killed in Tuesday's suicide bombings, a senior US official said, as Secretary of State John Kerry met with Belgian leaders and offered condolences and help following the attack.
The official did not offer specifics on where they died, saying only that two had been confirmed killed.
"The United States is praying and grieving with you for the loved ones of those cruelly taken from us, including Americans, and for the many who were injured in these despicable attacks," Mr Kerry said after meeting Belgian Prime Minister Charles Michel.
"The United States stands firmly with Belgium and with the nations of Europe in the face of this tragedy," he said.
Mr Michel offered his condolences for the death of the US citizens, but did not elaborate. "We want to cooperate with you, do our best with you in order to face these very sensitive issues," he said.
The British Foreign Office has confirmed that Briton David Dixon was killed in the attacks.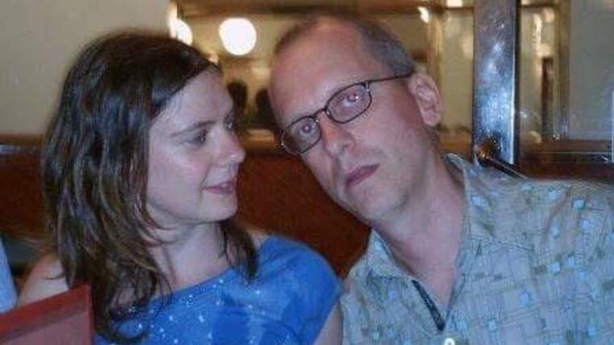 The 53-year-old from Hartlepool, lived in Brussels with his partner and their son. He was reported missing after the bombings.
Seven British nationals were injured in the attacks - three are still being treated in hospital.
I am deeply saddened to hear David Dixon was killed in the Brussels attacks. My thoughts and prayers are with his friends and family.

— David Cameron (@David_Cameron) March 25, 2016
France's foreign ministry said one French national had died and 12 were wounded on Tuesday.
Belgian daily De Morgen said investigators had identified a new suspect they believe played a role in the Brussels bombings, naming him as 28-year-old Syrian Naim al-Hamed.
The paper said he was on a list circulated to the security services of other European countries after Tuesday's attacks along with Mohamed Abrini, Najim Laachraoui and Khalid El Bakraoui.
Hamed was also suspected of involvement in the Paris attacks, De Morgen said.
One man was killed in a shootout with police on 15 March that led to the discovery of assault weapons and explosives and the arrest of main Paris suspect Salah Abdeslam, 26, and another suspect on 18 March.
Belgium has lowered its security alert level one notch to three from the highest level, four, but officials did not say what that would mean in terms of security measures that have included a heavy police and military presence in Brussels.
Two sources familiar with the matter said the Bakraoui brothers had been on US government counter terrorism watch lists before the attacks.