Two brothers carried out the suicide bombings at Brussels airport and the metro, the Belgian federal prosecutor confirmed.
Airport bomber Ibrahim El Bakraoui, 29, left a will on a computer that was found in a bin, while his brother Khalid, 27, blew himself up on a carriage of the Brussels metro at Maalbeek station, Frederic Van Leeuw told a news conference.
Both men, born in Belgium, had criminal records for armed robbery but were not previously linked by investigators to Islamist militants.
Prosecutors said the confirmed toll from the two attacks was 31 dead and 270 wounded. Several survivors are in critical condition
The Bakraoui brothers were identified by their fingerprints and on security cameras, the prosecutor said.
The second suicide bomber at the airport has yet to be identified and a third man, whom Mr Van Leeuw did not name, left the biggest bomb and ran out of the terminal before the explosions.
Belgian media named that man as Najim Laachraoui, 25, a suspected recruiter and bomb-maker for the so-called Islamic State whose DNA was found on two explosives belts used in last November's Paris attacks and at a Brussels safe house used by Salah Abdeslam before his arrest last Friday.
Prosecutors accuse Abdeslam of a key role in the 13 November Paris attacks.
Police sources told AFP that the second suicide bomber at the airport has been identified as Najim Laachraoui.
Some media reported this morning that Laachraoui had been captured in the Brussels borough of Anderlecht, but they later said the person detained was not him.
"The third man is on the run; he left his bag with the biggest bomb in it which exploded later because it was so unstable," Mr Van Leeuw said, referring to the man in a hat and white coat in the CCTV images.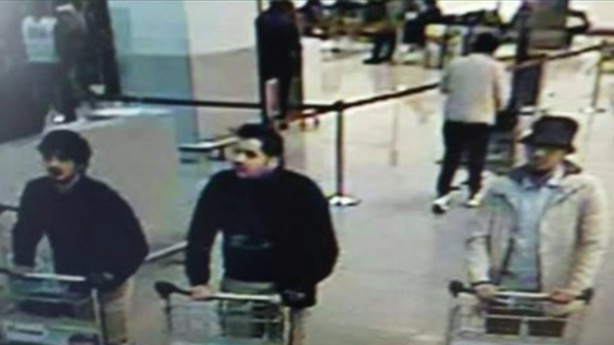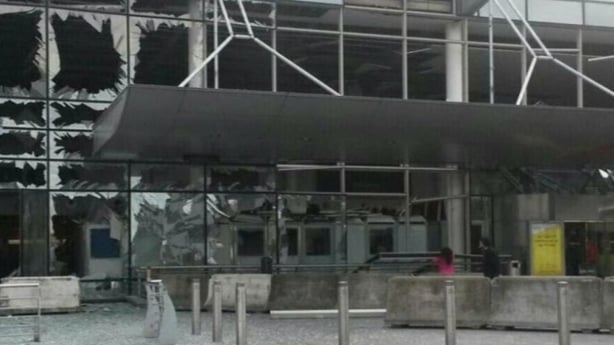 First victim of Brussels attacks named || 'Urgent' need to tighten borders - French PM || 
Belgian suicide bombers linked to Paris attackers || Turkey detained, deported Brussels bomber
The man in the middle of the CCTV still was Ibrahim El Bakraoui, who left a rushed will saying he did not know what to do after police were hunting for him, the federal prosecutor said.
Bakraoui's will said he was "in a rush", "I don't know what to do, hunted everywhere, no longer safe" and "I don't want to end up in a cell next to him", Mr Van Leeuw said.
That appeared to be a reference Abdeslam.
Police found 15kg of TATP high explosives and a mass of bomb-making material during searches in the Schaerbeek district of the Belgian capital last night, the federal prosecutor.
Mr Van Leeuw said police also found 150 litres of acetone, detonators, bags filled with nails plus other equipment used to make bombs of the type used in the attacks.
TATP high explosives have been used extensively by IS jihadists.
A bomb found at the airport after the attacks was subsequently destroyed in a controlled explosion.
The attacks sent shockwaves across Europe and around the world, with authorities reviewing security at airports and on public transport.
They also rekindled a debate about European security cooperation and police methods.
Brussels airport will remain closed until Friday, its chief executive said.
Ryanair has said flights due to operate to/from Brussels will operate to and from Charleroi as a result.
The departure hall at Zaventem was completely wrecked, with part of the ceiling collapsing down as passengers waiting to check-in struggled out of the smoke-filled building in panic and fear.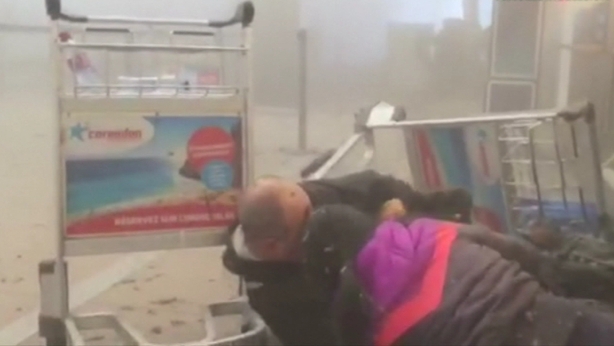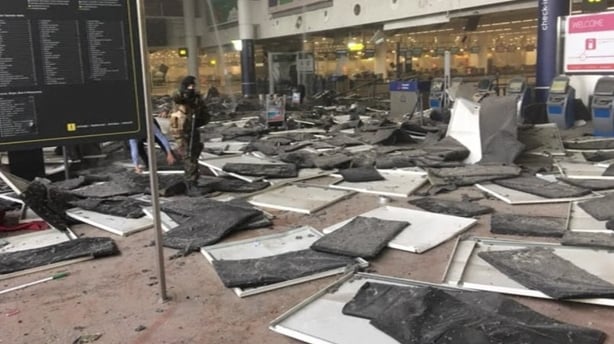 The so-called Islamic State group claimed responsibility for the attack.
Following the attacks Belgium's football friendly against Portugal, scheduled to take place next Tuesday, has been moved.
The match was due to have taken place on 29 March at the King Baudouin Stadium in Brussels but the Royal Belgian Football Association announced it will now be played in Leiria in Portugal following a request of Brussels authorities.
Brothers were known to Belgian police
Acting under a false name, Khalid El Bakraoui, had rented the apartment in the city's Foret district where police hunting Abdeslam killed a gunman in a raid last week, RTBF said.
Ibrahim El Bakraoui was convicted in October 2010 for firing a Kalashnikov assault rifle at police and wounding an officer after a robbery in Brussels earlier that year. He was sentenced to nine years in prison. He has been on the run since breaching parole terms last year.
In 2011, Khalid was given a sentence of five years for car jacking. 
Brussels police searched a house in the north of the city late into the night, turning up another bomb, an IS flag and bomb-making chemicals in an apartment in the Schaerbeek area of Brussels.
Local media said authorities had followed a tip from a taxi driver who may have driven the bombers to the airport.
Investigators earlier said they were focusing on a man in a hat who was caught on CCTV pushing a laden baggage trolley at the airport with two others they believed were the bombers.
An unused explosive device was later found at the airport and the man, believed to be Laachraoui, was seen running away from the terminal after the explosions.
Security experts believed the blasts were probably in preparation before Abdeslam's arrest, who prosecutors are accusing of a key role in the 13 November Paris attacks.
He was caught and has been speaking to investigators after a shootout at an apartment in the south of Brussels a week ago, after which another IS flag and explosives were found.
It was unclear whether he had knowledge of the new attack or whether accomplices may have feared police were closing in.
The Brussels blasts fuelled political debate across the globe about how to combat militants.
"We can and we will defeat those who threaten the safety and security of people all around the world," said US President Barack Obama.