A suicide bomber killed two Israelis who had dual US citizenship in a busy shopping district in the heart of Istanbul, the fourth such attack in Turkey so far this year.
The Department of Foreign Affairs confirmed a number of Irish people are among 36 people injured following the bomb blast.
An Irish-Algerian family visiting Istanbul was among the people caught up in the bomb attack in the city this morning.
The two parents were slightly injured, while their three children were unhurt.
They were taken to hospital for treatment but are expected to be released this evening.
The Irish Ambassador to Turkey has said that the Irish citizens who were caught up in the bomb attack in Istanbul were "slightly injured" and as they were on the last day of their holiday they are due to return to their home in London later this evening.
Speaking on RTÉ's Six-One Brendan Ward also said there is a danger that there will be further incidents of this kind and that people will have to consider the possibility of being involved in a terrorist incident.
But he said that Turkey is by-and-large a safe and friendly country.
He said there is comprehensive advice on travelling to country on the Department of Foreign Affairs website.
We have updated our travel advice for #Turkey following today's bomb in central Istanbul @dfatravel https://t.co/z11g3pt4Bn

— IrishForeignMinistry (@dfatirl) March 19, 2016
Earlier, in a statement acting Minister for Foreign Affairs Charlie Flanagan expressed his "horror and sadness" at the bomb attack.
He appealed to anyone with concerns for Irish citizens in Turkey to call 01-408-2000, or the Irish Embassy in Ankara on 0090-312-459-1000.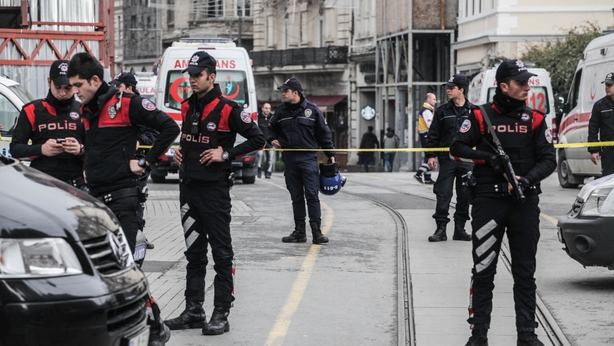 Turkish Prime Minister Ahmet Davutoglu said the blast was "in humane" and would not stop Turkey, which has been targeted by Kurdish militants and self-styled Islamic State militants in recent months, from fighting "centres of terrorism".
The blast was a few hundred metres from an area where police buses are often stationed and sent panicked shoppers scurrying into side alleys off Istiklal Street, a pedestrian avenue lined with international stores and foreign consulates.
The explosion killed at least two Israeli citizens, Prime Minister Benjamin Netanyahu said, adding that a third may have died.
Israel said earlier that 11 of its citizens were injured while Turkish officials said one Iranian was also among the dead. Ireland said "a number" of Irish were hurt.
"There is information that it is an attack carried out by an ISIS member, but this is preliminary information, we are still checking it." Netanyahu told reporters, referring to Islamic State.
The attack will raise further questions about the ability of NATO member Turkey to protect itself against a spillover of violence from the war in neighbouring Syria.
Turkey is battling a widening Kurdish insurgency in its southeast, which it sees as fuelled by the territorial gains of Kurdish militia fighters in northern Syria, and has also blamed some of the recent bombings on Islamic State militants who crossed from its southern neighbour.
"No centre of terrorism will reach its aim with such monstrous attacks," Mr Davutoglu said in a written statement. "Our struggle will continue with the same resolution and determination until terrorism ends completely."
Turkey is still in shock from a suicide car bombing last Sunday at a crowded transport hub in the capital Ankara which killed 37 people and a similar bombing in Ankara last month in which 29 died. A PKK offshoot claimed responsibility for both.
The latest attack brought widespread condemnation.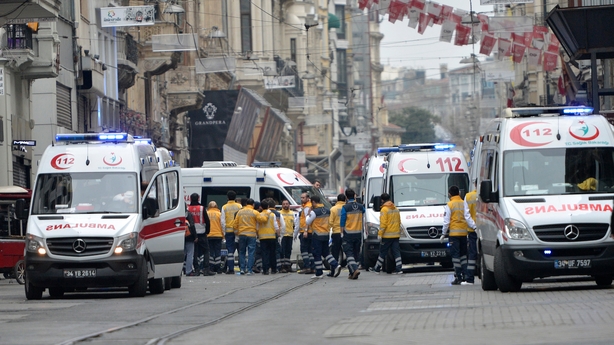 International condemnation of bomb blast
The US called the attack a "vicious terrorist attack" and vowing to stand by Turkey.
"The United States stands in solidarity with our NATO ally Turkey in combating the common threat of terrorism," State Department spokesman John Kirby said in a statement.
"This vicious attack is the latest in a series of indefensible violence targeting innocent people throughout Turkey – Turkish citizens and international visitors alike."
Iranian Foreign Minister Mohammad Javad Zarif, on an official visit to Istanbul, said it showed "the ugly face of terrorism". France condemned it as "despicable and cowardly".
NATO chief Jens Stoltenberg described it as "another terrorist outrage against innocent civilians", while the US State Department said it was the latest "indefensible violence targeting innocent people throughout Turkey".
The Kurdish-rooted opposition Peoples' Democratic Party(HDP) condemned the bombing. The PKK's umbrella group said it opposed targeting civilians and condemned attacks on them.
A 2-1/2-year PKK ceasefire collapsed last July, triggering the worst violence in the southeast since the 1990s. Hundreds have since died.