President Michael D Higgins held a special St Patrick's Day reception in Áras an Uachtaráin this evening to honour the Irish Naval Service for their lifesaving work in the Mediterranean last year.
Officers and crews from the LÉ Eithne, LÉ Niamh and LÉ Samuel Beckett, who picked up more than 8,000 people from overcrowded boats during their deployment, attended.
From May to December last year, Irish Navy personnel took on a new role as Europe struggled to cope with the migrant crisis on its southern borders.
Day and night, they provided search and rescue services in the Mediterranean going to the aid of thousands of migrants fleeing to Europe from war and poverty-ravaged regions including Syria and sub-Saharan Africa.
This evening, those personnel were honoured by President Higgins at a St Patrick's Day reception that each year honours groups who have made a special contribution to Ireland.
Speaking at the reception, President Higgins said he is deeply concerned about what is happening in Europe in relation to the migrant crisis.
He said Europe faces a defining moral test and that test cannot be met by turning our backs on those who seek our assistance.
He said the consequences of failing the test would be catastrophic for those seeking help and for Europe itself and its standing.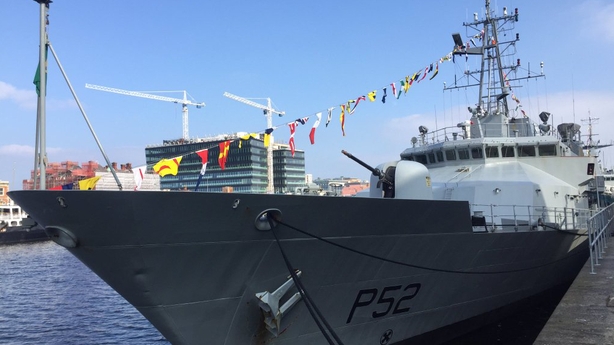 Two of the three ships involved in the Mediterranean mission, Long Éireann Niamh and Long Éireann Samuel Beckett, took time out from their maritime patrols to tie up on the Liffey Quays today so crew could attend the reception.
It is expected the Irish Navy will return to the Mediterranean again this year to continue with the search and rescue mission.
The Minister for Defence Simon Coveney has already said he expects they will deploy although a government decision on the matter is still awaited.
President Higgins say Naval Service in Med was inspiring, impressive and great example to young people #rtenews pic.twitter.com/FaPWrb5zee

— Joe Mag Raollaigh (@joemagraollaigh) March 17, 2016