Cyprus said it could use its veto to block an accord between Turkey and the EU to stem the refugee crisis if Ankara did not open its ports and airports to the island.
European Union leaders met today to seek agreement with Turkey to stop migrants reaching Greece and voiced a mix of hope for a fix to the crisis and caution that a deal could fall through or prove unworkable.
Expediting Ankara's long-stalled EU entry talks was one of the conditions, touching a raw nerve with Cyprus.
"Turkey has to open its harbours and airports (to Cypriot traffic) and normalise its relations with Cyprus, something that it doesn't do," Cypriot President Nicos Anastasiades said.
Mr Anastasiades heads a Greek Cypriot government acknowledged to represent the whole island in the EU, though effective membership stops at a ceasefire line splitting the country in two.
Northern Cyprus is a breakaway Turkish Cypriot state recognised only by Ankara, carved out of territory Turkey seized in a 1974 Turkish invasion triggered by a brief Greek-inspired coup.
Cyprus has blocked discussion on a number of EU policy areas, or "chapters" Turkey must conclude, partly because Ankara has not opened its ports and airports to Cypriot traffic.
Asked if he would veto any deal which did not take Cypriot concerns into account, Mr Anastasiades said: "Of course...As long as Turkey doesn't implement its obligations, we don't have any other choice."
Earlier, European Council President Donald Tusk said he was "more cautious than optimistic" about prospects of reaching a deal with Turkey.
Mr Tusk said any agreement "must be acceptable to all 28 member states, no matter whether big or small" - a reference to Cyprus's reservations.
He also said a deal must fully comply with EU and international law.
"I am cautiously optimistic, but frankly speaking I am more cautious than optimistic," Mr Tusk told a news conference, adding that EU leaders were "moving into difficult talks".
A senior Turkish official said Turkey does not intend to make new demands at the two-day summit on the refugees crisis and sees the chances of finalising a deal as difficult but not impossible.
Should there be new proposals from the European side, Turkey would discuss them, the official said, adding that countries, including Cyprus, should not be allowed to block progress.
The official also said a visit by Mr Tusk to Ankara this week had not fully resolved issues over the deal.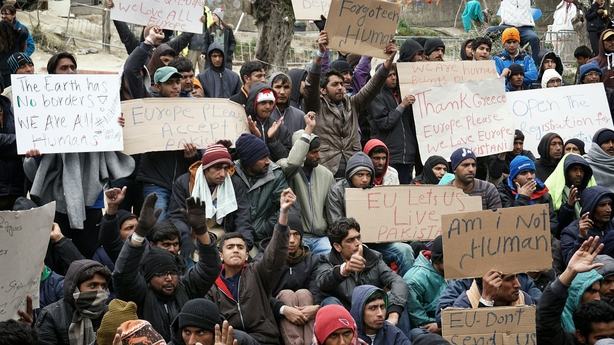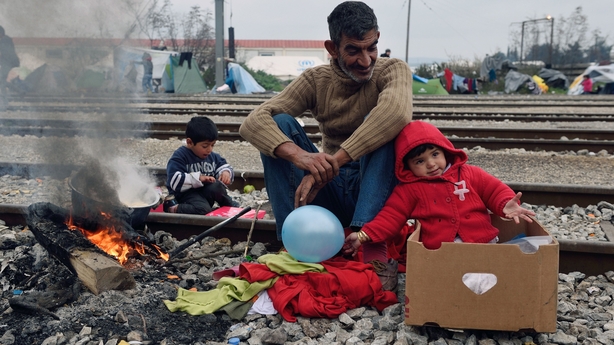 The EU plan proposes that refugee flows will be replaced by a system whereby Syrians experiencing war are instead resettled in Europe directly from Turkey.
Human rights organisations and relief agencies have warned that such a system would be against EU and international law.
The plan was initially presented to an EU-Turkey summit last week after late night talks involving German Chancellor Angela Merkel and the Turkish and Dutch prime ministers.
At the time many EU leaders and diplomats felt they had been blindsided by the plan, so far reaching was its import.
Since then a number of capitals have criticised it as giving too many sweeteners to Turkey, while the United Nations refugee agency expressed grave concerns about the legality of what appeared to be a system of blanket returns of those who may be in need of international protection.
Mr Tusk has been visiting capitals trying to, as he put it, rebalance the plan.
However, the principle remains. If a Syrian refugee lands on a Greek island he or she will be sent back to Turkey, and a corresponding Syrian refugee will then be resettled in Europe.
The idea is to discourage what is regarded as irregular migration. Those who pay smugglers will go to the bottom of the queue, while those who stay in Turkey will have a chance of being directly resettled in Europe.
The plan still faces staunch opposition on a number of fronts, both legal and political, but diplomats believe that over the next two days some kind of compromise is within reach.