A 70-year-old man who was left in a coma after an operation at St James's Hospital in Dublin in 2011 has been awarded more than €500,000 in an interim settlement at the High Court.
Robert Bolton suffered a catastrophic injury to his brain after suffering respiratory failure and sepsis following his operation on 3 October 2011.
His wife Angela Bolton welcomed the settlement but said nothing would compensate the family for the condition of her husband.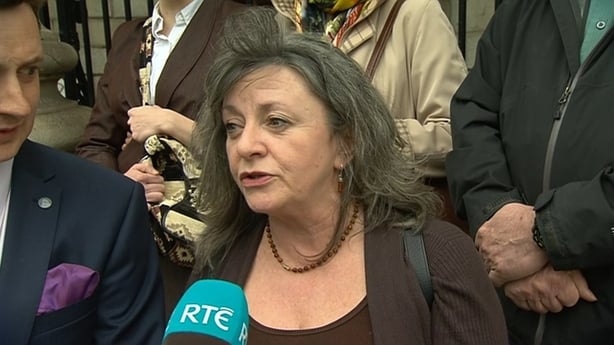 The settlement will be reviewed again in two years.
Mr Bolton worked as a funeral director in Dublin and was also a talented musician.
On 3 October he had what was described as successful surgery to his oesophagus. However, the court heard that while he was recovering in intensive care the following day, he suffered a heart attack due to respiratory failure and sepsis which had not been diagnosed or treated.
He has been in a minimally conscious state ever since, unable to speak or communicate. He has no reaction to the presence of family members.
The court heard he requires highly specialised care.
He sued St James's Hospital through his wife. The court heard liability was admitted in certain aspects of the case.
It also heard an interim settlement of €550,000 which includes his care for the next two years had been agreed.
Mr Justice Cross said he would approve the settlement which he said had been well thought out and was obviously the result of hard bargaining.
He wished Mrs Bolton and her family all the best and said they could be happy in the knowledge that the best possible arrangement had been made on behalf of Mr Bolton.
Afterwards, Mr Bolton's solicitor David O'Malley said no ruling could ever address the emotionally repugnant state Mr Bolton had been left in.
He had lost the one thing he cherished most - his power of expression. But he said the hard work and courage of his wife and family had given Mr Bolton a voice to determine what happened to him.
Mr O'Malley said the family also had the small comfort of knowing his care had been provided for. He said they hoped lessons would be learned from the ordeal he went through every day.
His wife said the family felt now his care was assured and he would never want for anything.
She said all they really wanted was to find out what had happened to him, and they believed they had found that out as much as they could.
Mr O'Malley also called for legislation to be brought in to impose a duty of candour on doctors to admit when mistakes occurred.