The former chief executive of Anglo Irish Bank, David Drumm, has been released on bail after being extradited from the United States.
Mr Drumm left the Criminal Courts of Justice with members of his family.  He said nothing except "thank you" to the dozens of waiting journalists, photographers and camera people. 
The large media scrum followed him from the courts to a waiting car and he was then driven away.
Former Anglo Irish Bank CEO David Drumm made no comment as he was released on bailhttps://t.co/shUJLIWWlP

— RTÉ News (@rtenews) March 15, 2016
Mr Drumm was in custody overnight in Cloverhill prison while his bail conditions were finalised.
He spent five months in custody in US prisons after being arrested on foot of an extradition request in October last year.  He was flown home in the early hours of yesterday morning.
This morning, Dublin District Court approved his parents-in-law Danny and Georgina Farrell as his independent sureties.
The Farrells had to lodge €50,000 in cash in court and provide details of a bank account in which another €50,000 is now to be frozen.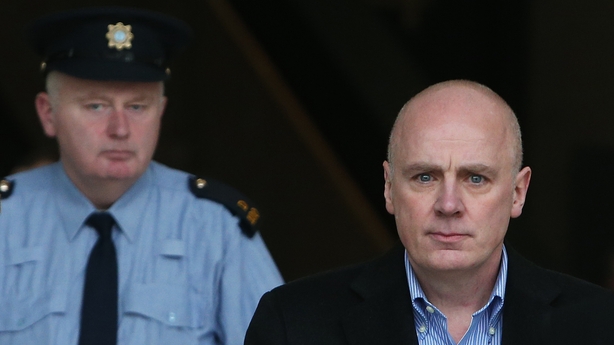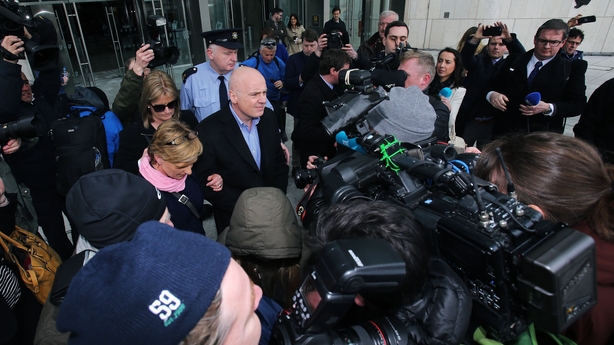 Judge Michael Walsh warned them that they were obliged to notify gardaí if they had any concerns that Mr Drumm would not turn up in court. 
He warned them that if Mr Drumm did not turn up for his trial, they would forfeit the money.
Judge Walsh also reminded Mr Drumm of his bail conditions.   
He reminded him he had to lodge €50,000 in cash, he must turn up to court hearings, he must not commit any offence, he must live at an address in Skerries and sign on twice daily at Balbriggan Garda Station.
The court heard he has surrendered his passport to gardaí. 
He must also provide gardaí with a mobile phone number on which he can be contacted.
The judge also reminded him that he was obliged to remain in the state.
Mr Drumm replied "I will, your honour" when asked by the judge if he was going to comply with all of these conditions.
Mr Drumm blew a kiss to members of his family when bail was approved.  There was a delay of about an hour and a half while bail bonds were sorted out and signatures approved by the court.
Mr Drumm emerged from a door beside the bail office just after 1pm.  
A visibly emotional Mr Drumm was hugged by family members including his sisters, sister-in-law and his parents-in-law before speaking to his solicitors.
Mr Drumm has been sent forward for trial by jury in the Circuit Criminal Court.  He is due back there on 8 April.
It is unlikely his trial or trials will take place until the middle of next year at the earliest.
He faces 33 charges relating to his time at Anglo Irish Bank. 
16 of them relate to the alleged provision of unlawful financial assistance to ten developers and six members of Seán Quinn's family.
14 relate to the alleged forgery and falsification of loan facility letters, two charges relate to transactions between Anglo and Irish Life and Permanent and one charge relates to the alleged breach of an EU transparency directive in relation to the disclosure of Mr Quinn's shares in the bank.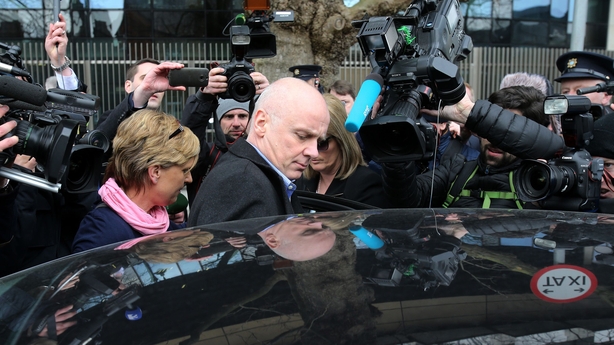 The State claimed Mr Drumm was a flight risk and objected to the granting of bail, but Judge Michael Walsh ruled there was a constitutional presumption in favour of bail.  
He said the idea that Mr Drumm was a flight risk did not hold water as he had strong ties to this country.  
He said Mr Drumm had no previous convictions and had never previously failed to answer bail.
The court heard Mr Drumm's wife and daughters intend to move back to this country at the end of June.