Turkish police have detained 11 suspects near the border with Syria who they believe are linked to a deadly car bomb attack in the heart of Ankara on Sunday.
The country's prime minister, Ahmet Davutoglu, has said that the evidence so far pointed to Kurdish rebels being behind the attack.
"There are very serious, almost certain findings that point to the separatist terrorist organisation", he told reporters, in reference to the outlawed Kurdistan Workers' Party (PKK).
He said that of the 37 killed in the blast, 35 had been identified as victims, one was confirmed as an attacker and one was believed to have been helping the attacker.
Mr Davutoglu vowed that Turkey would "take any step required to defend this country", and said the army carried out a "very comprehensive operation" in northern Iraq targeting PKK bases, as well as rebels in the Kurdish-majority southeast.
Earlier, Turkish war planes struck Kurdish rebel bases in northern Iraq.
Police acted on a tip-off that the car that exploded in Ankara had been brought from a dealership in Sanliourfa, state-run Anatolia news agency reported.
The fighter jets hit arms depots and shelters of the outlawed PKK in the mountainous Kandil and Gara regions in northern Iraq, the army said, quoted by the state-run Anatolia news agency.
The targets were hit "with precision", it added.
Security officials said evidence shows that one of two suspected bombers was a woman in her 20s from eastern Turkey who joined the PKK in 2013.
The second suspect has been identified as a Turkish male with PKK links.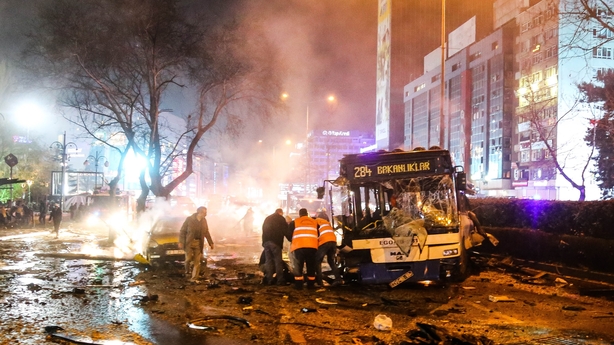 Earlier, health minister Mehmet Muezzinoglu said the death toll stands at 37, and that 71 people were still being treated in hospital, of which 15 were in serious condition.
The bombing was the second such attack in the administrative heart of the city in under a month and two senior security officials said that initial findings suggested the PKK militant group was responsible.
The previous car bombing came just a few blocks away on 17 February, which killed 29 people, most of them soldiers, and was claimed by a group close to the PKK.
Turkey has in recent months waged an all-out assault on the PKK, which launched an insurgency against the Turkish state in 1984, fighting for greater autonomy and rights for the country's largest ethnic minority.
After the collapse of a fragile truce, deadly clashes resumed last year between security forces and rebels in the southeast.