Former Anglo Irish Bank CEO David Drumm has been remanded in custody overnight with consent to bail.
By agreement he has to lodge his own bond of €50,000 and provide an independent surety of €100,000 - €50,000 of which must be lodged and €50,000 must be available to be frozen in a bank account.
Dublin District Court was told there was not enough time to produce evidence of the money in the bank account this afternoon.
The court will sit again tomorrow morning, when it is expected Mr Drumm will be released on bail.
He is expected to spend tonight in Cloverhill prison in Clondalkin.
Other conditions of Mr Drumm's bail are that he must surrender his Irish passport to the authorities and a copy of the bail order is to be forwarded to the Department of Foreign Affairs.
Mr Drumm gave sworn evidence that he did not possess a US passport and also undertook not to apply for any new passport.
He must also sign on twice daily at Balbriggan Garda Station in Dublin. 
Judge Michael Walsh refused to grant a condition sought by the Director of Public Prosecutions that Mr Drumm must not leave Dublin without giving notice to gardaí.
Mr Drumm was brought before the court today following his extradition from the United States. He was charged with 33 counts, including conspiracy to defraud and false accounting.
The court heard Mr Drumm was arrested at 5.30am after arriving at Dublin Airport on an Aer Lingus flight from Boston.
The charges were put to him by Sergeant Michael McKenna and Sergeant Michael Prendergast of the Garda Bureau of Fraud Investigation.
The court heard he made no reply when charged.
Sixteen of the charges relate to the alleged provision of unlawful financial assistance to ten developers and six members of Seán Quinn's family.
There are also 14 charges in relation to the falsification of documents, two charges relating to transactions between Anglo Irish Bank and Irish Life and Permanent and a charge relating to the EU transparency directive.
Members of Mr Drumm's family, including his mother and parents-in-law, were in court to support him.
Mr Drumm's solicitor Michael Staines applied for bail on behalf of his client. The court heard the DPP objected to bail on the grounds that Mr Drumm was a flight risk.
Former CEO of Anglo Irish Bank David Drumm arrives at the Criminal Courts of Justice in Dublin this morning.https://t.co/HE7ojAelSK

— RTÉ News (@rtenews) March 14, 2016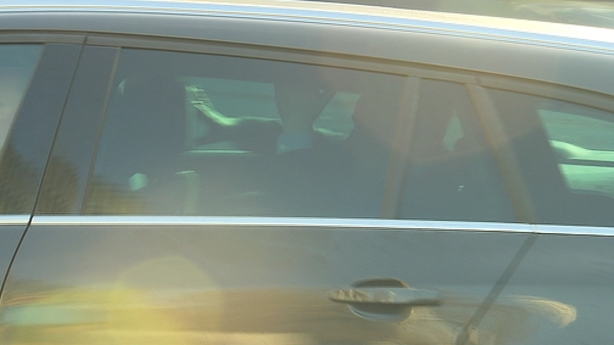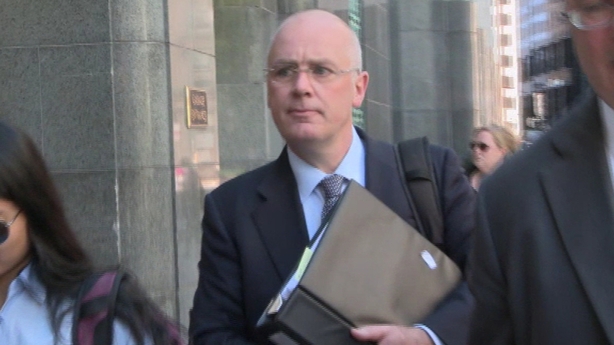 Judge Walsh said Mr Drumm came before the court as an innocent man and was presumed to be innocent. He said there was a constitutional presumption in favour of bail.
The judge added that he had listened very carefully to the concerns expressed by Sgt McKenna and also considered what had been offered by the accused.
He had also read carefully the correspondence between Mr Drumm and the Irish authorities.
He said the onus was always on the prosecution to prove an accused person might attempt to evade justice. And he said the balance of justice always favoured an accused person getting bail.
The judge said the offences Mr Drumm was charged with were serious.
The court must always pay attention to the objections of the DPP but, he said, this in itself was not a ground for refusing bail.
He said it was clear Mr Drumm had refused to return to this jurisdiction for questioning. 
But he said after a decision was made in July 2013 to bring criminal proceedings against him, no correspondence was sent to him or his US lawyers to advise him of this.
Mr Drumm has no previous convictions and had never previously failed to answer bail, the court heard.
Judge Walsh also said another significant factor was the possibility of a speedy trial. He said there was no possibility of Mr Drumm going on trial until 2017 and he said he was also mindful of the complexity of the offences.
He said Mr Drumm was now in the jursidiction, whatever differences had arisen before. The whole issue of a flight risk did not hold water, he added. He was an Irish citizen and had strong ties to this country including his elderly mother and siblings who were in court.
He said he had decided to admit Mr Drumm to bail in the interests of justice.
Following a short adjournment, the court remanded Mr Drumm in custody overnight with consent to bail. He will appear in court again tomorrow with evidence of surety.