US Republican presidential front-runner Donald Trump blamed supporters of Democratic candidate Bernie Sanders for protests that shut down his Chicago rally, calling the US senator from Vermont "our communist friend".
Mr Trump's Republican rivals, meanwhile, hurled scorn at the New York billionaire, saying he helped create the increasingly tense atmosphere that is now sweeping the race for the White House with his fiery rhetoric.
Mr Trump, who has rallies in Ohio and Missouri today, cancelled the Chicago event yesterday after it turned chaotic, with scuffles breaking out between protesters and backers of the real estate magnate.
Attendees at the rally were split into opposing camps of supporters of the Republican front-runner and protesters inflamed by his candidacy.
A Trump campaign spokesperson took to the stage after the rally was due to begin and said it would be postponed for safety reasons. A campaign statement issued slightly later said the event would be held on another unspecified day.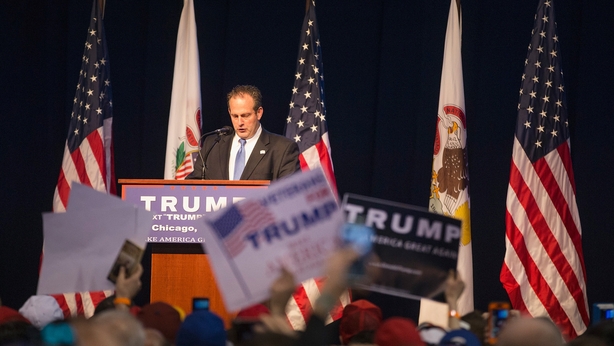 Following the announcement, the crowd began to chant and cheer. Scuffles broke out as signs were ripped from hands and police moved in to quickly defuse the most serious scuffles.
The clashes follow a slew of recent incidents of violence at Trump rallies, in which protesters and journalists have been punched, tackled and hustled out of venues, raising concerns about degrading security leading into the 8 November election.
"All of a sudden a planned attack just came out of nowhere," Mr Trump said at a rally in Ohio this morning, calling the protest leaders "professional people".
He said his own fans "were taunted, they were harassed by these other people, these other people by the way, some represented Bernie, our communist friend."
Donald Trump was forced to cancel his rally in Chicago yesterday evening as violent protests broke out in the crowdshttps://t.co/ZEPZuXUa3M

— RTÉ News (@rtenews) March 12, 2016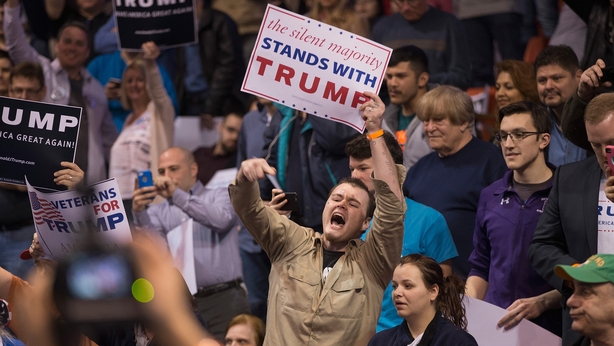 "Now really Bernie should tell his people...he should really get up and say to his people 'stop, stop,'" he said.
A spokesman for Mr Sanders, a self-described Democratic socialist, did not immediately respond to a request for comment.
Mr Trump's rival, Senator Marco Rubio, cast wide blame for what he called "third world" images out of Chicago, from the protesters to the media, with his harshest criticism directed at Mr Trump.
"This is a frightening, grotesque, and disturbing development in American politics," he said before a rally in Florida.
Republican candidate Ted Cruz called the incident "sad" and said the protesters should have let the rally happen.
Mr Trump has drawn fervent support as well as criticism for his calls to build a wall along the US-Mexico border and to impose a temporary ban on Muslims entering the country.
His rallies often attract small groups of protesters, but yesterday's was the first at which there may have been as many protesters as supporters.
Asked by CNN interviewer Don Lemon if he would take back anything he had said, Trump said: "Now, getting back to before tonight, when I talked about illegal immigration, I have no regrets whatsoever."
"If I didn't bring up illegal immigration, it wouldn't even be a subject of the campaign," he added.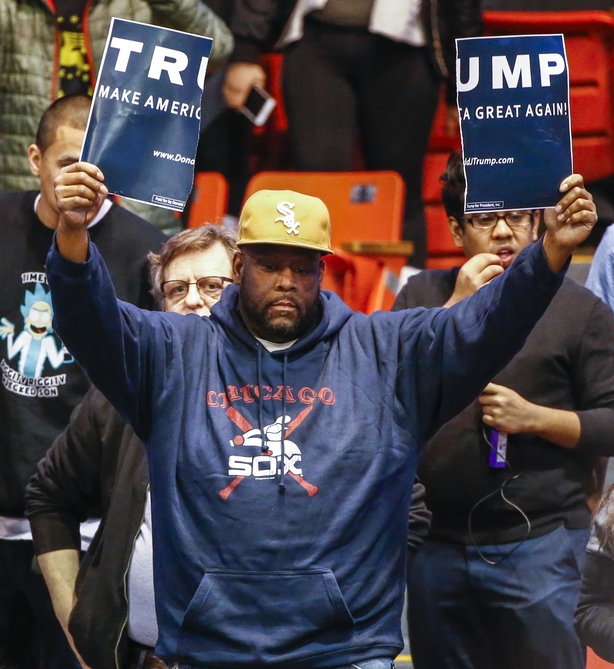 Earlier yesterday, at a rally in St Louis, Missouri, Mr Trump had been speaking for less than 10 minutes when protesters began interrupting him. The disruptions continued over the next hour as Mr Trump urged security to "get them out".
"Can I be honest with you, it adds to the flavour, it's more exciting. Isn't this better than listening to a long boring speech?" Mr Trump said of the disruptions.
At some events, altercations have turned physical. In New Orleans last week, several protesters supporting the Black Lives Matter movement were dragged out as Mr Trump shouted "get them".
In North Carolina on Wednesday protesters interrupted Mr Trump's speech more than 16 times. One was punched as he was led from the arena.