The High Court has heard that Savita Halappanavar's husband Praveen has settled his case against the Health Service Executive and her obstetrician.
Mr Halappanavar had issued High Court proceedings against the HSE and consultant obstetrician, Katherine Astbury, for negligence in the death of his wife.
The 31-year-old, who was 17 weeks pregnant, died following a miscarriage at University Hospital Galway in October 2012.
Legal proceedings were listed to begin in the High Court today but the court was told the case was settled.
Lawyers for the HSE told the court all aspects of the case had been agreed and the entire case could be struck out.
The court was told the HSE admitted Savita's death was wrongful.
But the details of Mr Halappanavar's settlement were not disclosed.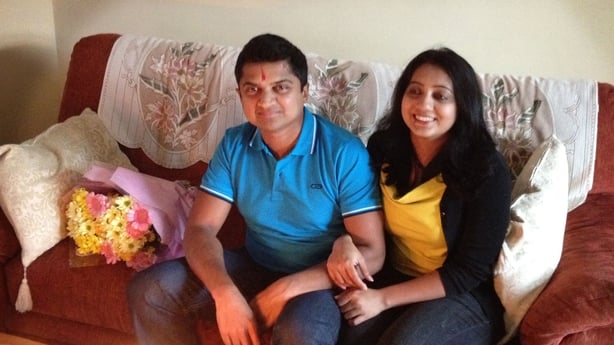 In addition, the court approved a statutory award of €35,000 to be divided equally between Ms Halappanavar's parents, her husband and two older brothers for mental distress.
Lawyers for Mr Halappanavar declined to comment afterwards.
Ms Halappanavar was admitted to University College Hospital Galway on 21 October 2012.
In his action, her husband Praveen said she was wrongfully caused or permitted to lose her life on 28 October due to the negligence, breach of duty, lack of treatment, diagnosis and medical care from the defendants.
He alleged that they failed to remove the infection in his wife's body in time and that they failed to terminate her pregnancy in time to prevent infection developing into sepsis, septic shock and death.
Mr Halappanavar said the HSE had an obligation to protect Savita's life, to vindicate it and to treat her infection, in accordance with the Constitution.
He said by failing to take such steps as were appropriate and necessary for the protection of her life, the HSE placed too great an emphasis on the position of the foetus, which had no possibility of survival, in her body.
And he said the HSE placed too much emphasis on the existence of the foetal heartbeat and ignored Savita's rights, in particular her right to life and to appropriate medical treatment while under its care.
Mr Halappanavar said his wife enjoyed a good life and was in good health but her life was shortened as a result of the defendant's negligence and misconduct.
His action alleged that he and his wife's family had suffered great mental distress, upset and hurt as a result of her tragic, untimely and premature death.