EU leaders agreed at a summit with Turkey to follow up by next week on Turkish proposals to halt departures of all migrants and refugees to Greece in return for EU actions.

After the summit concluded, Luxembourg Premier Xavier Bettel tweeted that summit chairman Donald Tusk "will take forward the proposals and work out the details with the Turkish side" before the March 17-18 summit of EU leaders, a long-scheduled meeting.
They also voiced concern, tinged with embarrassment, that increased Turkish cooperation coincides with a crackdown on media freedom that runs counter to European values.
Turkish Prime Minister Ahmet Davutoglu earlier said the half-day meeting would also address Turkey's bid to join the European Union and he hoped for a "turning point", adding that Turkey was indispensable for the EU, just as Europe was for Turkey.
EU officials said, however, that he arrived with stiff new demands.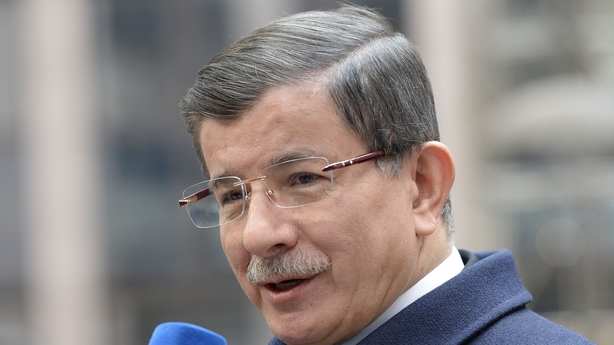 Some reports have suggested the final communique from the summit will declare that the Western Balkan corridor, through which a million refugees have travelled in the past year, is now "closed".
Already this year 126,000 migrants have crossed into Greece.
Macedonia has sharply restricted its border to the north which has left 13,000 people stranded at the frontier, with 30,000 refugees trapped in Greece.
The occurrence of further drownings on the stretch of sea between Turkey and the Greek islands has added an intense urgency to the crisis.
Leaders will pledge to help Greece cope with the backlog and seek assurances that Turkey, with NATO naval back-up in the Aegean, will stop people smugglers putting migrants to sea.
"I hope we will make a step forward to achieving these goals today but that will take difficult negotiations so it may take awhile to get a result," German Chancellor Angela Merkel said.
Ms Merkel and Dutch Prime Minister Mark Rutte, whose country holds the rotating EU presidency, spent five hours talking with Mr Davutoglu in Brussels until 2.45am to try to nail down commitments to halt the migrant flow after more than one million people - mostly Syrians, Iraqis and Afghans - entered Europe last year, most ending up in Germany.
EU officials said Mr Davutoglu had raised the stakes, however, by demanding much more EU cash than the €3bn pledged to help the 2.9 million Syrian refugees, faster moves to negotiate Turkish membership of the EU and an immediate easing of EU visa rules for Turks.
Another spoke of alarm that hard bargaining could disrupt talks to reunite Greek and Turkish-speaking parts of Cyprus.