Two men are being questioned after a fire engine was stolen from a station in Co Antrim and crashed into at least eight cars.
The incident began at around 4.30am this morning when someone broke into the station on Agnew Street in Larne.
The engine was driven a short distance to Glenarm Road where it crashed into a number of cars.
It then smashed through the front gardens of a row of terraced houses before coming to a halt.
One car was flipped on to its roof, while the fire station was also damaged.
The PSNI say the two men, aged 66 and 19, were arrested shortly after the incident.
One of the men was brought to hospital to receive treatment for minor injuries but he has since been released.
Both men are now in PSNI custody.
The Northern Ireland Fire Service say they are working to ensure services are maintained in Larne.
There are no other reports of injuries in the incident.
Police have appealed for witnesses to come forward.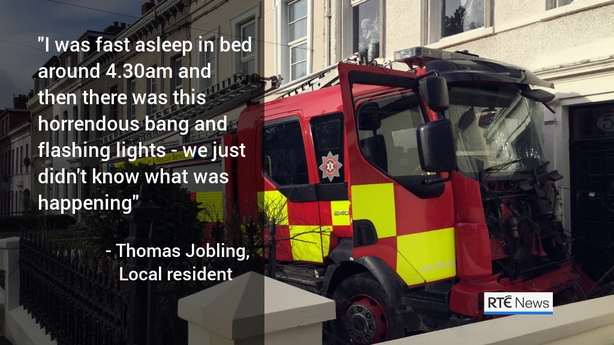 Locals awoken by "explosion" at 4.30am
Thomas Jobling, who lives on the Glenarm Road, was asleep in bed when he heard a massive crash around 4.30am.
Mr Jobling, whose own car was badly damaged, said he thought it was an explosion, but said when he looked outside he could not figure out how the fire service had arrived on the scene so quickly.
"I was fast asleep in bed around 4.30am and then there was this horrendous bang and flashing lights - we just didn't know what was happening," he said.
"We thought it was possibly an explosion, we rushed downstairs and immediately saw the carnage of a line of cars, think it was probably eight cars, one sitting on its roof, my own car was side swiped as well.
"The next thing we saw was the fire engine with the lights going and pulsing, and realised it was tight up against another couple of buildings in the terrace.
"We were thinking again there is obviously a reason for it, but then realised the fire engine has got here far too quickly.
"Then we started to calculate what has happened - the fire engine was stolen we understand and at great speed coming up here on the coast road has veered off and wiped out about eight cars.
"We are completely in shock, the neighbours on both sides of the road, we are just wondering how in the name of goodness can something like this happen."