Luas drivers belonging to SIPTU have escalated their industrial action by serving notice of strike action on Easter Sunday and Easter Monday.
Luas operator Transdev confirmed that it received formal notice of the additional strike action this morning, following a meeting of SIPTU representatives yesterday.
Minister for Transport Paschal Donohoe said: "This behaviour threatens to further disrupt significant events in our city, this time around Easter week commemorations.
"Issuing strike action as 'insurance' does nothing to move a potential resolution forward or to encourage the WRC that an intervention is even possible at this stage," the minister added.
Staff went on strike for four days last month, and a further two days of stoppages are scheduled for 8 and 17 March.
The dispute centres on a pay claim by SIPTU for increases of up to 53% which Transdev said is unsustainable and unaffordable.
Managing Director Gerry Madden said he could not believe that SIPTU were threatening not just the company with their unrealistic pay claim, but were now prepared to jeopardise the Irish economy and Irish jobs.
He said the State had made great plans for the centenary of 1916, and transport was a vital part of those plans.
He said Transdev has stated its willingness to attend the Workplace Relations Commission but was disappointed that the invitation had to be withdrawn because of what he called last week's unofficial industrial action by some Luas drivers.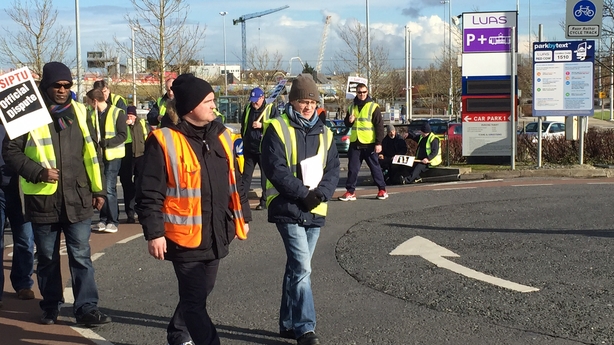 The company had alleged that some drivers were deliberating disrupting services by taking excessive toilet breaks known as Personal Needs Breaks, which has been categorically denied by SIPTU.
Mr Madden said he understood the WRC's position in that it cannot enter talks while unofficial action is taking place.
He said that now that the unofficial action has stopped, it was deeply regrettable that this notice was served.
He said it appeared to represent more of an escalation than a willingness to engage in meaningful dialogue.
Mr Madden also noted that the threat was from the driver grade only, adding that Transdev wanted to acknowledge the revenue protection grade who had withdrawn their work to rule.
SIPTU sources said the Luas drivers had been prepared to suspend their work to rule - as well as the strike action on 8 March - in order to facilitate talks at the Workplace Relations Commission.
However, they said the drivers felt they had to serve notice of the additional strike days on Easter Sunday and Monday - and retain the threat of strike action on St Patrick's Day - as "insurance".
They noted that the additional strike notice was only on behalf of the driver grade.
The other three grades in the company are still finalising their position.
Industrial sources said the escalation of the dispute by serving the additional strike notice for Easter Sunday and Easter Monday would make it impossible for the WRC to intervene.