The Dublin Fingal constituency fell badly for Fine Gael deputy leader and former minster for children James Reilly who lost his seat by a wide margin.
It was a dramatic reversal in an area where Mr Reilly was the highest vote-winner last time out in 2011.
Speaking following his defeat, Mr Reilly said that he does not believe the party got its message across as well as it could have.
The former minister for health said his time in that department was difficult and that the government spent the first three years with no money.
"I'd liken it in a medical metaphor to 'the operation was a success but the patient is still in a lot of pain'," he added.
"The operation was a success, but the patient is still in a lot of pain" FG's James Reilly on losing his seat #GE16 https://t.co/v6uWpGmwdP

— RTÉ News (@rtenews) February 28, 2016
His colleague, Alan Farrell saved a seat for Fine Gael, but the poll topper was Fianna Fáil's Darragh O'Brien.
Meanwhile, the identities of parties or groupings that might form the next government remain unclear.
The 32nd Dáil is due to convene for the first time on Thursday week before which negotiations are expected to take place on the possible formation of a government.
Live: National Updates | Constituency Updates
Elsewhere, Labour's deputy leader Alan Kelly narrowly retained his seat in Tipperary where he failed to reach the quota of 12,000 votes.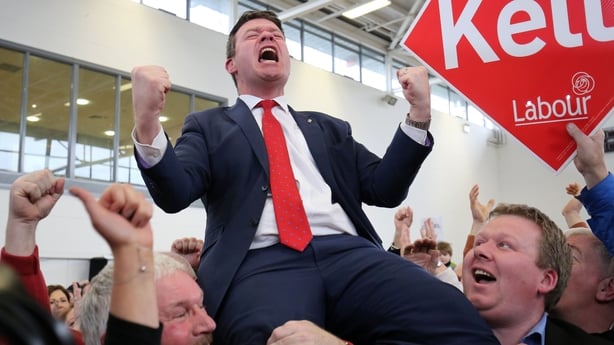 He refused to be drawn on whether he would attempt to oust leader Joan Burton who has only led the party for two years.
"Rebuilding the party starts tomorrow and I am going to make sure I am working with everyone that we organise, we rebrand and we redevelop our party and redevelop our message because obviously we need to do that," Mr Kelly said.
"Joan always has my support - that's always the way it is. But, those of us who won seats in this Dáil need to step up to the plate collectively and look at what we need to do as a party."
Labour's Alan Kelly and Independent Seamus Healy have been elected on the 7th count in Tipperaryhttps://t.co/47eZ9UY2Sc

— RTÉ News (@rtenews) February 28, 2016
Speaking after his election, the outgoing environment minister said it was rubbish for the country's two biggest parties - Fine Gael and Fianna Fáil to suggest there are massive issues between them.
"It's 2016 lads, it is 100 years since the Rising. Civil war politics are over," Mr Kelly said.
"Fianna Fail and Fine Gael need to 'cop themselves on' now and form a new government for the next five years.
"All of this pretending that there are massive issues between them is rubbish. They need to come together, work together and put a government in place for the good of the people," he added.
Separately, in Kildare North, Labour's Emmet Stagg also failed to be elected.
Speaking following his re-election for Fine Gael in Dublin Bay North, outgoing minister for jobs, enterprise and innovation Richard Bruton said that the Taoiseach has signalled clearly that it is his responsibility to form a stable government and that discussions will have to take place in the coming days.
He said the vote represents a desire to build something fresh and new and that every party will have a role to play in that.
Every party will have a role to play in forming a government - @RichardbrutonTD @RTEDublinBayNth #GE16 pic.twitter.com/qhJdwCDf2T

— Sharon Tobin (@sharontobin) February 28, 2016
In Cork South Central, first time General Election candidate Sinn Féin's Donnchadh Ó Laoghaire won the third seat without reaching the quota.
Outgoing minister for agriculture Simon Coveney took the fourth seat also without reaching the quota.
The result confirms the loss of Jerry Buttimer's seat for Fine Gael.
Former banking inquiry chairman, Labour's Ciarán Lynch also failed to get elected in Cork South Central.
Outgoing Labour minister Ged Nash lost his seat in the constituency of Louth.
Fine Gael's Dara Murphy took the final seat in Cork North Central on the eleventh count, eliminating Minister of State at the Department of Health, Kathleen Lynch.
Outgoing minister of state at the Departments of Finance Fine Gael's Simon Harris was re-elected on the second count in the constituency of Wicklow.
In his victory speech Mr Harris said there was a duty on all of the Dáil to "work as grown ups and use the hand of cards they had been dealt with.