An exit poll conducted for RTÉ indicates bad news for the Government parties and gains for Fianna Fáil, Sinn Féin and Independents and Others.
The poll, carried out by Behaviour and Attitudes, was conducted among a sample of 4,283 voters around the country who were interviewed immediately after they had voted in the General Election.
The poll was conducted throughout all 40 Dáil constituencies and undertaken at 225 polling stations.
It indicates first-preference support for Fine Gael is at 24.8%, well down on previous opinion polls and the 2011 general election results.
The exit poll suggests support for Labour is at 7.1%, Fianna Fáil at 21.1% and Sinn Féin at 16%.
Turning to Independents, it suggests that one third of the electorate has voted for Independents or smaller parties.
The polls suggests Independents are at 11%; AAA-PBP at 4.7%; Social Democrats at 3.7%; Green Party at 3.6%; the Independent Alliance at 3%; while it indicates support for Renua is at 2.4%; and Others at 2.6%.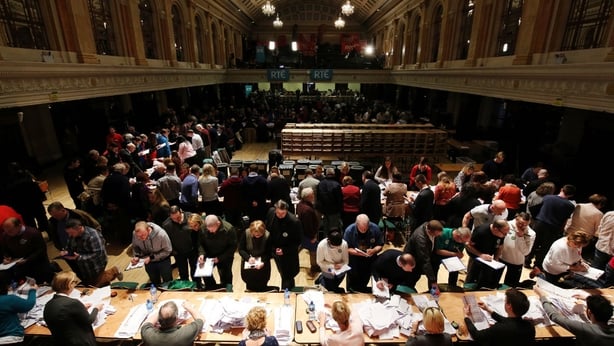 Overall it indicates that fewer than one in every three voters gave their first preference to the Government parties.
Interviews were conducted face to face with randomly selected individuals throughout the hours of polling.
The margin of error is plus or minus 1.5 percentage points.
The poll was commissioned by RTÉ in partnership with the School of Politics and International Relations of UCD, the Department of Government in UCC, the School of Politics, International Studies and Philosophy in Queen's University Belfast, and Trinity College Dublin.
Asked about the perceived likelihood of another election in the next 12 months, 50% said it was likely.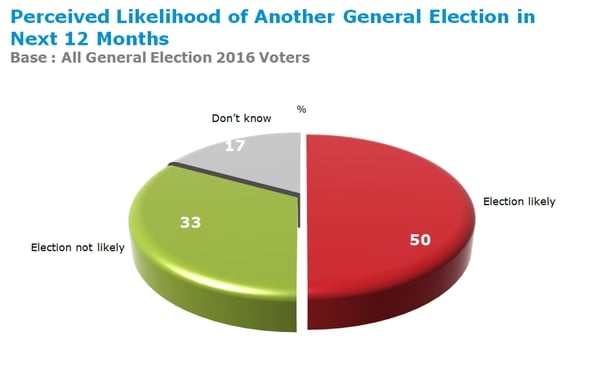 Live: Election 2016 | Live: Constituency Updates
What is an exit poll? | How accurate are exit polls? | Academic reaction 
TCD Professor Michael Marsh gives his assessment of the RTÉ Exit Poll #GE16 pic.twitter.com/NK4KG8AgdM

— RTÉ News (@rtenews) February 27, 2016
Second preferences in line with first
The poll shows that voters gave their second preferences broadly in line with their first preferences, with the notable exception of Sinn Féin.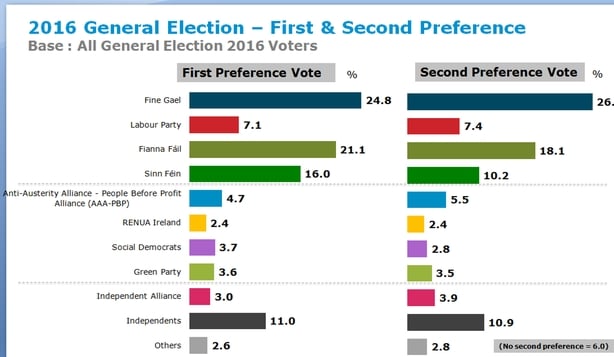 Sinn Féin garnered fewer than two thirds of its first preference total in second preferences.
Fianna Fáil's second preferences also slipped below their first preference totals, while the Anti-Austerity Alliance/People Before Profit candidates did better as did the Independent Alliance.
Fine Gael and Labour both did slightly better on second preferences.
Almost 50% feel personal finances have not changed
The RTÉ Exit Poll found that 48% of those polled believed their personal finances had stayed the same over the last year, while 26% believed they were better off and 26% thought they were worse off.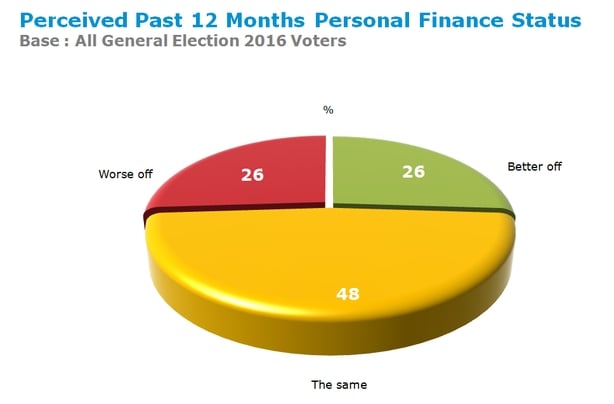 Asked about preferences for a coalition, 21% of those polled said they would like to see a return of the Fine Gael and Labour government, while a further 9% expressed a preference for a government made up of Fine Gael, Labour and independents.
The poll also showed that 15% showed a preference for a government involving Sinn Féin and other parties and independents.
It also indicated that 14% would like a coalition comprising Fianna Fáil and other parties or independents, while 13% preferred a Fine Gael and Fianna Fáil coalition.
5% want a single Fine Gael party government, another 5% want a Fianna Fáil and Sinn Féin coalition and another 5% wanted some other scenario.
13% said they did not know their coalition preference.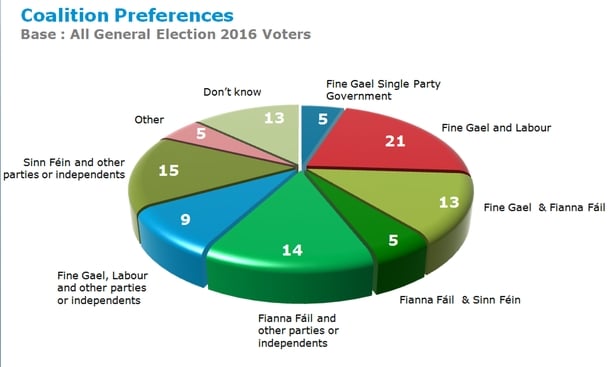 More FG, FF support in rural areas than urban
A regional breakdown of the poll shows that Fine Gael and Fianna Fáil garnered more votes in rural areas than in urban centres.
Labour, Sinn Féin, the Green Party, AAA-PBP  and the Independent Alliance polled better in urban areas than in rural areas.
In Dublin, according to the RTÉ Exit Poll, Fine Gael and Fianna Fáil earned a lower percentage of votes than their national average.
The Anti-Austerity Alliance-People Before Profit candidates garnered more than double the support in urban areas that they secured in rural areas.
The Social Democrats and Renua also fared better in Dublin than their national average.
The Fine Gael vote peaks among people aged 50 and over, and among professionals, exit poll data suggests. 
Fianna Fáil is strong among those aged 35 and older, and Sinn Féin peaks within the 18-34 age group.
Timing of decision
The exit poll indicates 15% of voters decided who they would give their first preference to only on polling day or the day before, while 20% decided during the last week of the campaign.
It also indicates that 23% decided sometime before the election was called and another 23% decided two-three weeks ago or since it was called.
18% said they always vote for a given party or the same way and 1% could not remember when they made up their mind.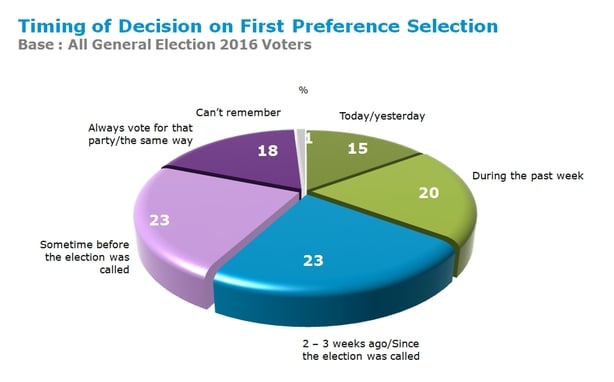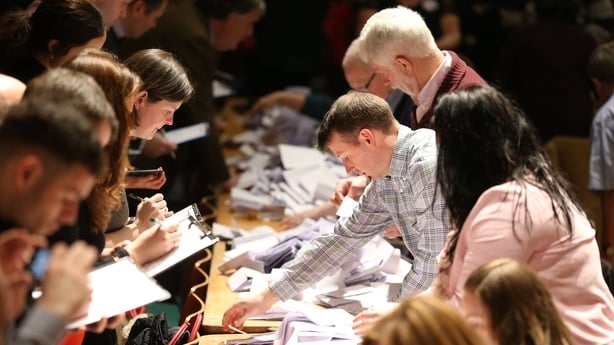 #GE16 "earthquake election" says @dfarrell_ucd on @morningireland

— Fran McNulty (@franmcnulty) February 27, 2016
TCD Professor Michael Marsh on @morningireland: 'It's hard to see any kind of government without Fine Gael and Fianna Fáil getting together'

— RTÉ News (@rtenews) February 27, 2016