SIPTU has warned that the Luas dispute will "fester and escalate" if employer Transdev does not fully engage in negotiations to find a solution.
SIPTU Divisional Organiser Owen Reidy said Transdev would be better off rolling up their sleeves and trying to get back into dialogue with their own staff rather than trying to demonise them and talk at them through the media.
He said his members on the Luas picket line are serious about sitting down and negotiating a way out of the current dispute.
However, to do that, they needed another side to negotiate, and up to now they had not had that.
Mr Reidy said his members would want to see if Transdev was serious about negotiation.
Talks at the Workplace Relations Commission, aimed at resolving the dispute, have ended.
Sources said that the WRC team will reflect overnight on what they heard today from Transdev and SIPTU.
They will decide tomorrow on whether there is a basis for proceeding to more substantive negotiations.
Earlier, Transdev warned that SIPTU will have to significantly reduce its pay claim if there is to be any prospect of resolving the dispute which halted tram services in Dublin for four days in the last fortnight.
Managing Director Gerry Madden described Transdev's opening position of increases of between 1 and 3% with productivity enhancements as a reasonable starting point - with the key word being reasonable.
He noted that even if SIPTU were to say they had reasonably modified their claim by 50, 70 or even 80%, that would still take them way beyond industry norms.
He said if SIPTU arrived with a claim that was still beyond industry norms, they would be back where they were at the beginning.
He said they could not expect a third party like the WRC to magic something out of the air, as they needed something reasonable to work with.
Asked whether Transdev was standing firm at 3%, Mr Madden said they had never said they would pay 1,2 or 3% but rather that they would look at that range with productivity enhancements as the sensible start to a conversation.
He said the devil would be in the detail and behind closed doors, but there was still a massive gap to be closed.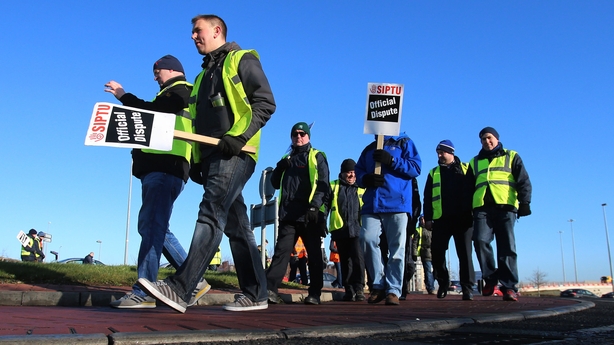 Asked whether he thought there would be more stoppages after St Patrick's Day, he said he hoped there would not be any stoppages full stop.
However, he cautioned that Transdev could not just do a deal because they had something serious coming down the line on St Patrick's Day.
He said the people with the power to run the trams every day including St Patrick's Day were SIPTU - who should be asked the question when they arrive to meet the WRC this afternoon.
He defended a letter Transdev sent to SIPTU alleging that workers had orchestrated toilet breaks as part of a work-to-rule, resulting in disruption and delays for passengers.
He said Transdev was paid to run trams and get people moving, and if they thought people were not doing things diligently and trams were not running as they should be, then they would do everything possible that was reasonable to make trams run correctly and to time.
Mr Madden said that if they found things happening back at the ranch that were over and above normal behaviour they would look at that but they did not want to get to the point where they would be dismissing people, as that would not be a positive outcome.
Asked whether there would be further strikes, he said he did not want to call it at this stage.
Mr Reidy described Transdev's allegations of unofficial industrial action involving orchestration of toilet breaks as a bit of nonsense and a side show.
He said it was obvious that industrial action involving a work-to-rule would lead to a situation where you have delays.
He reiterated that employees who had voted 99% in favour of strike action were in this for the long haul, and urged Transdev to look at the dysfunctional relationship it has with its own staff.
He said that if there is the possibility of a process, they will certainly seize it.
However, he warned that if there is not, the dispute will continue, fester and escalate, which was not what anyone needs.
Further strike dates are planned for 8 March and 17 March.
It is feared the shutdown on St Patrick's Day could cost Dublin around €50m.