A Michigan man who worked as an Uber driver has been charged with six murders in the US state of Michigan at the weekend.
Prosecutors said they were still trying to determine why Jason Brian Dalton, 45, began firing - seemingly at random - as he drove through Kalamazoo on Saturday night.
He was also charged with two counts of assault with the intent to commit murder and eight gun offences.
He appeared via videolink and was seen on a monitor at the Kalamazoo County court wearing glasses and dressed in an orange prison jumpsuit as two guards flanked him.
When asked if he had a message for the community, Mr Dalton, who remained emotionless through the proceedings, said he preferred to "remain silent."

The judge denied bail and set 3 March for the next hearing.
Two other people were wounded in the attacks, including a teenage girl who was initially thought to have died.
Mr Dalton was arrested without incident yesterday.
Prosecutors alleged Mr Dalton randomly shot multiple times at people during a five-hour period on Saturday at an apartment complex, a car dealership and a Cracker Barrel restaurant in Kalamazoo, about 240km west of Detroit.
"The Kalamazoo community is reeling from these senseless acts of violence that took so many innocent lives from us," said Jeffrey Getting, the county's prosecuting attorney.

Initial checks with a key federal agency indicate Mr Dalton was unknown to both law enforcement and counter-terrorism agencies for having any kind of known connection to extremist groups.

President Barack Obama said he has spoken to the mayor and top law enforcement in Kalamazoo about the shootings and pledged whatever federal support they need.

"Earlier this year, I took some steps that will make it harder for dangerous people like this individual to buy a gun. But clearly, we're going to need to do more if we're going to keep innocent Americans safe," Mr Obama said in remarks before the National Governors Association at the White House.
An Uber representative confirmed that Mr Dalton was a company driver and had passed background checks.
Michigan State Police said the shooting began at about 5.30pm local time on Saturday with the report of a woman wounded outside an apartment building. At about 10pm, Richard Smith and his son Tyler were killed at the car dealership.

Mr Dalton allegedly opened fire outside the restaurant about 15 minutes later, killing four women identified as Mary Lou Nye, 62, of Baroda, Michigan; and Dorothy Brown, 74; Barbara Hawthorne, 68; and Mary Jo Nye, 60, all of Battle Creek,Michigan, state police said.

The victims apparently were chosen at random and shot multiple times, prosecutors said.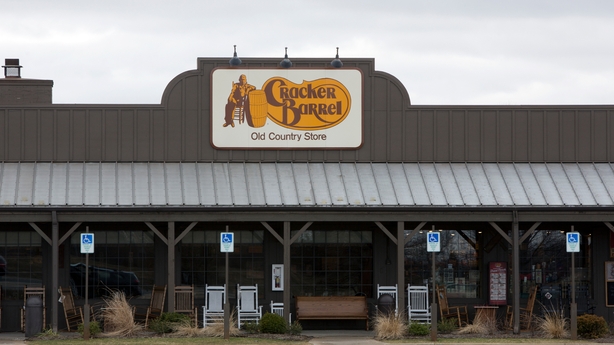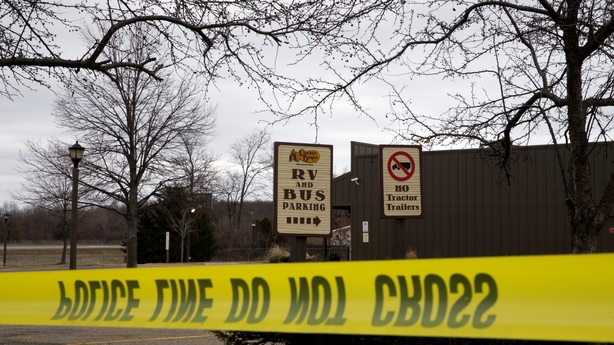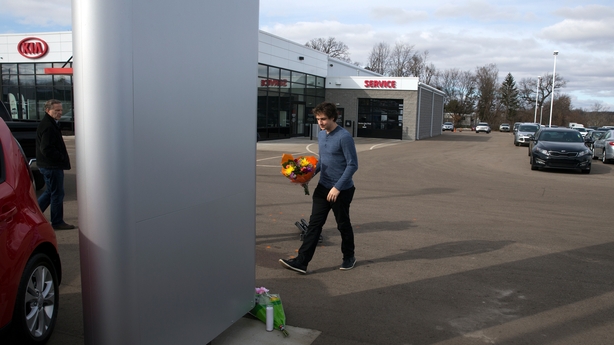 In an emailed statement, Uber's chief security officer, Joe Sullivan, said the company was in contact with police to help with the investigation.
An Uber passenger, Matt Mellen, told CBS TV affiliate WWMT that he had tried to alert the company after an erratic car journey with Mr Dalton about an hour before the first shooting was reported.
He said Mr Dalton introduced himself using a different name from the one listed as a driver. He then sped through central reservations and across a lawn, and Mr Mellen jumped out at a stop.
"He just kind of kept looking at me like, 'Don't you want to get to your friend's house?' and I'm like, 'I want to get there alive,'" said Mr Mellen.
His fiance posted a Facebook account of the ride that said Mr Dalton had sideswiped a car and run a stop sign.
Mr Mellen said he unsuccessfully tried to contact Uber about Mr Dalton after talking to police.
Kalamazoo Police Chief Jeff Hadley said that investigators were still looking into reports of Mr Dalton picking up Uber fares around the time of the shootings.
He confirmed that a man did call police with a report of an erratic Uber driver and the report was relayed to patrol officers.
Earlier, authorities reported seven deaths. Chief Hadley said he understood that the wounded teenage girl was initially believed to have died when she grasped the hand of one of her parents.