An Ipsos MRBI opinion poll for The Irish Times suggests a drop in support for Labour and Sinn Féin, with Fianna Fáil and Independents improving their position.
As the final week of General Election 2016 campaigning kicks off, the latest poll figures would mean an indecisive result if replicated on polling day this Friday.
The figures suggest the odds of a deadlocked Dáil are increasing with little cheer for the outgoing Government parties.
Fine Gael is unchanged compared to the last figures from the company at 28%.
Labour is at 6%, down one percentage point.
This poll has a margin of error of around plus or minus three percentage points.
Fianna Fáil move up two percentage points to 23% - Sinn Féin is down four points to 15% and Independents and others are up three points to 28%.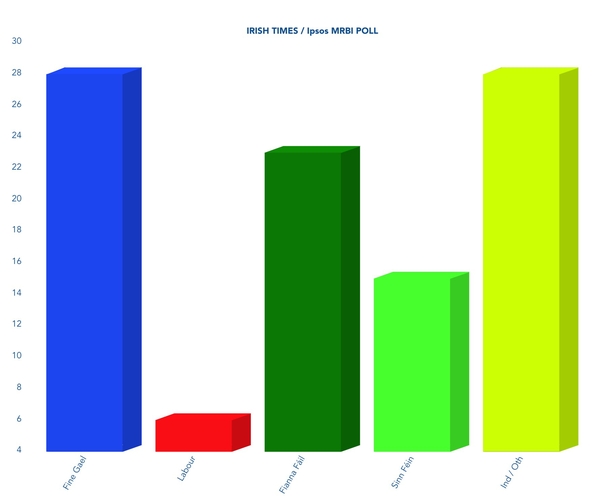 With four days campaigning to go, there is no sign of change for Enda Kenny while Labour will be deeply worried at a fall-off in party support at this stage.
For Fianna Fáil, the figures will confirm what the party said last night was an increasingly positive response on the doorsteps while Sinn Féin will be disappointed by a major slide in the numbers backing it.
Support for Independents is holding steady, despite predictions that it would soften as polling day approaches.