Thousands of anti-water charge protesters have taken to the streets in Dublin in advance of next week's General Election.
The Right2Water campaign has expanded to a Right2Change movement, calling not only for the abolition of Irish Water but commitments on housing, employment, health and public debt.
Organisers of today's national demonstration said that 106 election candidates have signed up to the Right2Change principles.
Marchers set off from outside the Garden of Remembrance at 2pm and walked down O'Connell St. From there they crossed to the South Quays as far as Winetavern Street before going up to Christchurch. The march finished on College Green with a rally.
Early estimates put the turnout at up to 20,000. However, organisers put the figure at 80,000.
"The huge turnout at today's demonstration, on the final Saturday before the General Election, sends a clear message to the outgoing Government that public anger at water charges remains unabated," said Right2Change coordinator Brendan Ogle.
"Water charges have been the tipping point for many people - but they are just one manifestation of the austerity policies pursued by the outgoing Government and the previous Fianna Fáil/Green coalition.
"So far, 106 candidates have signed up to the Right2Change policy principles - the principles which would underpin a new progressive government. Today, many of them came to Dublin and took to the stage to say 'another Ireland is possible'.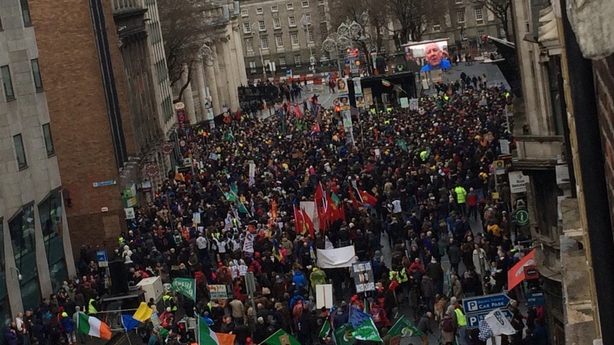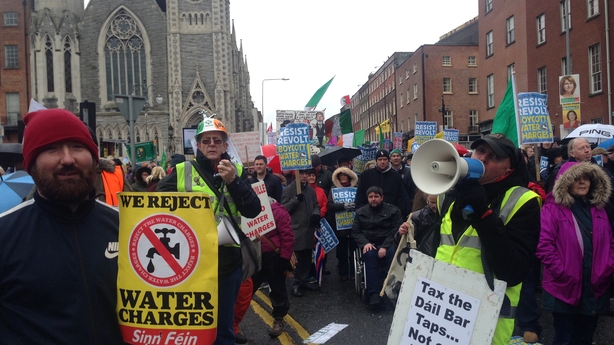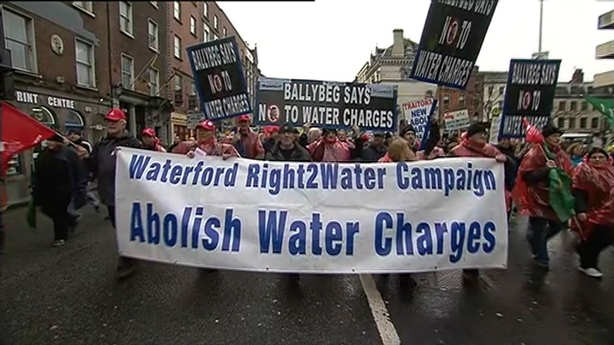 "This coming Friday, 26 February, people in every constituency will have a chance to vote for one or more 'Candidates4Change'. Another Ireland will become possible on polling day," Mr Ogle concluded.
Banners showed that groups had travelled from as far away as Cork, Limerick and Louth.
The Right2Change is supported by Sinn Féin, People Before Profit, The Workers Party and a number of other left wing groups and independents.
The trade unions Unite, Mandate, CPSU, Communication Workers Union and the plasterers union OPATSI are supporting the campaign.
Huge crowd at anti-water charges demonstration heading down Dame Street pic.twitter.com/SiGUXKLpgn

— Glenn Mason (@glennjmason) February 20, 2016
The Anti Austerity Alliance supports the principles but has not given a commitment to form a government with Sinn Féin.
Today's protest was billed as "the biggest demonstration in the history of the state" but the march took place in difficult weather conditions.
Some organisers have also admitted that not all the Right2Change candidates were there today because of the demands of the election campaign.