An appeal by the outgoing Independent TD Joan Collins against the rejection of her challenge to the Minister for Finance's decision to issue €31 billion in promissory notes will continue at the Supreme Court on Monday.
The promissory notes were effectively "IOU" notes from the State which allowed Anglo Irish Bank and other financial institutions to get emergency funding from the Central Bank in 2010.
At the beginning of the appeal Ms Collins' Senior Counsel John Rogers told the court this was an enormous case with enormous implications.
He said the core issue for the seven judge Court to decide was whether or not the Oireachtas had the capacity to delegate to the Minister for Finance a decision to allocate unlimited sums of public monies.
He said Ms Collins' case is that the Constitution does not permit the allocation of unstated, unlimited funds.
He said there must be a stated amount or a stated limit.
The High Court ruled in November 2013 that the promissory notes were validly issued under a law which was constitutional.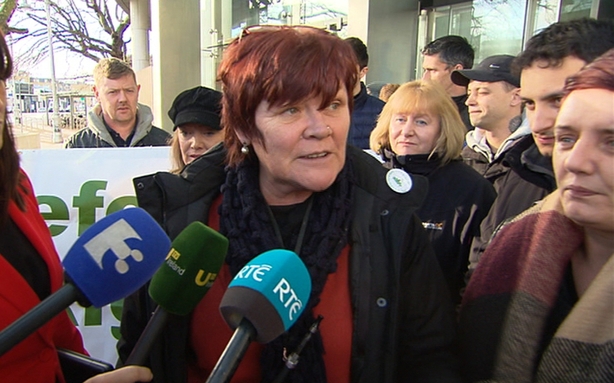 The State had to pay 75% of the substantial costs of the case after the court found the case raised exceptional issues affecting the operation of the State's finances, many of which had never previously been considered.
At the costs hearing, the court considered it was in the public interest the constitutionality of the "far-reaching" legislation which permitted the issuing of the promissory notes should be judicially determined.
The State had sought its costs against Ms Collins after she made it clear she would appeal the High Court decision.
The State had said it would not seek the costs if she did not appeal.
Mr Rogers told the Supreme Court this morning, that Ms Collins' case was that there was no inherent discretion vested in the government such that it was empowered to appropriate unlimited sums of money.
He said any power the Government had to expend monies must be given by law and the extent of what was given must be set out in law.
Mr Rogers said the 2010 Budget made no reference whatsoever to the payment of €3.1bn due to Anglo as part of the promissory notes payments in March 2011.
He said by the time deputies were aware of the payment, there was already a commitment to pay it but deputies had not voted on it. He said deputies were deprived of the opportunity to stop it happening.
Mr Rogers said it was Ms Collins' case that the promissory notes were illegal.
He said she objected to the undertaking of a burden by the State by way of these promissory notes where the burden was unlimited as to amount and time.
The State is expected to outline its reply to Ms Collins on Monday.