Dublin district court has dismissed all charges against outgoing Independent TD Joan Collins and nine others who were on trial for public order offences arising out of a water protest last year.
The ten had been charged with failing to comply with the direction of a Garda to leave the vicinity of Parnell Road in Dublin 8 during a protest against water meter installation on 20 April 2015.
Two of the defendants were also charged with obstructing a Garda and those charges were also dismissed.
An eleventh defendant did not turn up in court and a bench warrant was issued for his arrest on Monday.
The prosecution case closed yesterday and today the court heard applications on behalf of the defendants to dismiss the charges.
Judge Aeneas McCarthy ruled that there was conflicting evidence from gardaí as to the section of the public order act under which the direction to leave the area was given by Sergeant David Lynch.
He ruled he could not be sure all the members of the group had heard the instructions as the area was noisy and the Sergeant had not used anything to amplify his voice.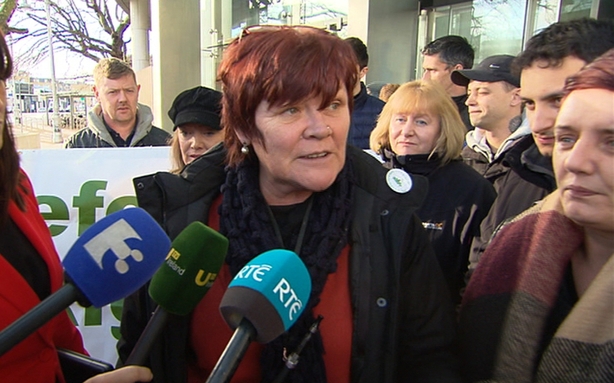 He also ruled there was no evidence Ms Collins and others were part of the group to whom the direction had been given, or that they had engaged in threatening, abusive or intimidating behaviour.
Mr McCarthy said there was a psychological mob in the group who shouted abuse at gardaí and used foul language but that did not apply to Ms Collins or to a number of other defendants.
The judge initially dismissed the charges of failing to comply with the direction of a Garda against eight of the defendants but after further defence submissions he dismissed them against the remaining two defendants.
He then dismissed the charges of obstructing a Garda against those two defendants.
Outside court, Ms Collins said she felt vindicated by the court's decision.
She said they were innocent and had won the right to effectively protest in their communities.
Ms Collins, who is seeking re-election to the Dáil in the Dublin South Central constituency, said she hoped this would set a precedent for other people who had been arrested for protesting against water charges.
She added that the prosecutions were an absolute disgrace and a waste of Garda time and resources and that the court's decision would have a very positive effect on the anti-water charges campaign.
And she said they could protest in communities, knowing they had been through this process and had won that right.
Councillor Patrick Dunne, who was cleared yesterday of failing to comply with the direction of a Garda, said it was shameful the Director of Public Prosecutions had brought these cases to court.
He said people had had to take three days off work and Ms Collins had had to spend three days away from her election campaign.