Aerospace firm Bombardier has said it will cut up to 1,080 jobs over the next two years from its Belfast operation.
The company said that 580 jobs will go this year with up to 500 more next year.
Overall the company, which manufactures planes and trains, has announced plans to shed 7,000 of its global workforce.
The move follows a review of the Canadian-owned Belfast firm's requirements.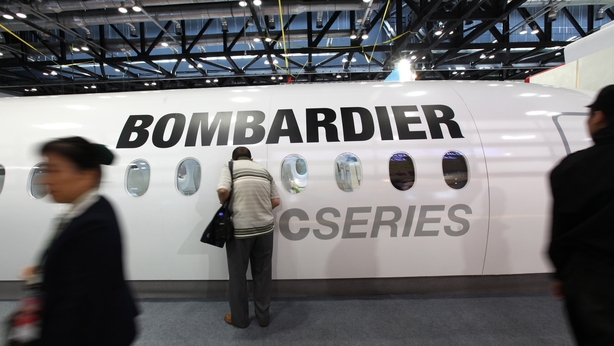 A statement said: "Bombardier announced today that it is taking steps to optimise its workforce in 2016 and 2017. In line with this, we have reviewed our requirements in Belfast and regret to confirm that we must adjust our workforce levels downwards by around 580 this year.
"In addition, we expect to have a further potential reduction of some 500 next year."
Some 200 Bombardier employee jobs are currently at risk of redundancy. The company said a formal redundancy notice would be lodged with the Department for Employment and Learning which would be followed by a 90-day consultation period.
A further 380 agency posts are also expected to be cut during 2016 - this includes 60 agency workers who left last month, Bombardier said.
The statement added: "We deeply regret the impact this will have on our workforce and their families, but it is crucial that we right-size our business in line with market realities.
"We will continue to evaluate all opportunities to significantly reduce our costs, improve our competitiveness, and boost our profitability, whilst focusing on the unique capabilities that will help shape and secure our future."
Bombardier is Northern Ireland's biggest manufacturing employer but has been hit by a downturn in the business jet market.
It has also been under increasing financial pressure over the production of its new C Series jet.
The company also said today it was cutting 270 jobs at its train-building arm in Derby in England.
Meanwhile, the Montreal-based company said today that its fourth quarter revenues fell by 15.8% to $5.02 billion.
But Bombardier narrowed its net loss to 31 cents per share in the fourth quarter ended December 31 from 92 cents per share a year earlier.
The company today also forecast lower revenue for 2016. It said it expected 2016 revenue of $16.5 billion-$17.5 billion, lower than the reported revenue of $18.17 billion in 2015.