The Small Firms Association has warned a planned Luas strike on St Patrick's Day could cost Dublin city around €50 million in lost revenue, ahead of two further days of stoppages tomorrow and Friday.
Luas operator Transdev has warned the public to make alternative travel arrangements for the next two days as SIPTU prepares for another two-day strike in pursuit of pay increases of up to 53%.
Workers, 99% of whom backed industrial action, were on strike for two days last week, and a further two days of stoppages are scheduled for next month, including on St Patrick's Day.
The industrial action has already cost workers an annual bonus of 6.5% but Transdev has also notified them the four days' pay to be deducted for the strikes will be taken from the next payroll run in one lump.
In a letter to staff, Managing Director Gerry Madden said both management and staff are losers in the current strike situation, and that Transdev's capacity to work with SIPTU to improve terms and conditions over the life of the current Luas operating contract has been seriously damaged by the industrial action.
He also noted that state penalties of €100,000 a day for failing to deliver the Luas service and any loss of income to the company through industrial action must be factored into a final resolution.
Meanwhile, SIPTU urged all parties, including Transport Infrastructure Ireland, to re-enter talks in a bid to resolve the row over pay and terms and conditions.
SIPTU Divisional Organiser Owen Reidy said the staff on the picket line did not want any more industrial action, but they are equally resolved to get what they consider to be a fair and just outcome.
"The matter has got more serious, and the matter has the potential to become more intractable and more difficult with the dates that were announced.
"I spoke to the workers on the picket line last week, they want a resolution, they want no more industrial action. But they are equally resolved to get what they consider to be a fair and just outcome."
Mr Reidy said he hopes the matter can be resolved before strike action planned for 8 and 17 March takes place.
Earlier Minister for Transport, Tourism and Sport Paschal Donohoe described the timing of the Luas strikes around St Patrick's weekend as very damaging, and timed to deliver maximum disruption not only to commuters but to the city of Dublin.
He said all sides in the dispute, including employees, employers, Dublin and the St Patrick's Day celebrations are losing out.
Both Mr Donohoe and Tánaiste Joan Burton urged all sides to sit down and reach an agreement, saying it was not good for Dublin to lose a vital public transport link.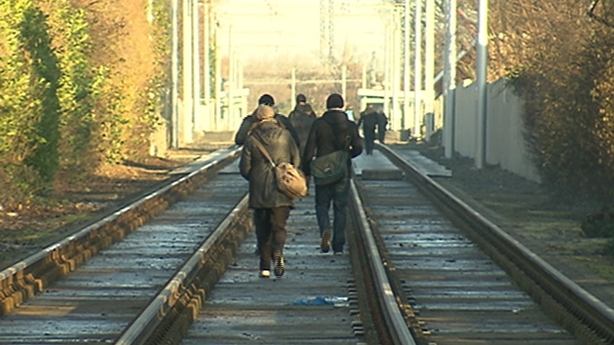 However, there is no indication of any intervention by the Workplace Relations Commission or the Labour Court, as it is felt that the sides are too far apart at present to do a deal.
Transdev has reminded customers that while they will be able to obtain refunds on season tickets for the strike dates, they cannot transfer the tickets to the CIE group transport services.
The strike will force 90,000 users to make alternative arrangements each day, with thousands more visitors and tourists likely to be affected on St Patrick's Day.
Patricia Callan of the SFA described the claim for pay rises up to 53% as complete nonsense.
"I think it is a very bad decision on behalf of the trade union and certainly I think we have to go back to basics in this dispute.
"It is complete nonsense looking for in the region of 50% pay increase when inflation is 0% and the majority of businesses are still on pay freezes, and those who are giving pay increases are in the order of 2%.
So the bounds have to narrow and we really need both parties to get back to the table and to sort this out. But it has to be reasonable."