Seven political party leaders took part in last night's second televised leaders' debate of the General Election campaign, which saw strong contributions from the leaders of the three smaller parties.
It was the only opportunity for the three leaders of the smaller parties to take part in a leaders' debate during this campaign.
They took full advantage of the seven-leader format with Richard Boyd Barrett – representing the Anti-Austerity Alliance and People Before Profit group – receiving several rounds of applause as he attacked the Government's record on health, employment and social housing.
Social Democrats representative Stephen Donnelly succeeded in differentiating his party from the main ones and in particular on tax policy.
There were also strong contributions from Renua Ireland leader Lucinda Creighton  on crime.
Taoiseach Enda Kenny and Tánaiste Joan Burton focused on the Government's record and both strongly attacked the Fianna Fáil leader Micheál Martin's record in government.
But Mr Kenny stayed back from the fray during the debate while Ms Burton was on the defensive several times.
Fianna Fáil leader Micheál Martin and Sinn Féin's Gerry Adams attacked each other and also the Government's record on health and housing in particular
But overall, there was no clear winner or serious mistakes as the campaign continues with less than a fortnight to go to polling day.
Ms Creighton and Mr Donnelly both questioned the situation regarding State lands and Mr Boyd Barrett said local authorities and State construction firms should build houses.
Labour leader Ms Burton raised recent legislation to deal with the rental market and said rent supplement is being increased, but on a case-by-case basis.
On health,  Mr Martin – a former health minister – faced tough questions on his time in office.
He defended his party's record in health and said that by "any metric" more patients were being treated more successfully when Fianna Fáil was in government and that James Reilly had caused chaos in the health service.
He said Fine Gael had promised a whole load of things on health five years ago which it did not deliver.
Mr Kenny described his claim as rubbish and countered that in 2002, as health minister, Mr Martin promised to abolish waiting lists permanently.
Both Mr Boyd Barrett and Mr Donnelly called for a NHS system for Ireland while Ms Creighton said the way to deal with health is to manage the health service by ridding it of the layers of bureaucracy and middle management.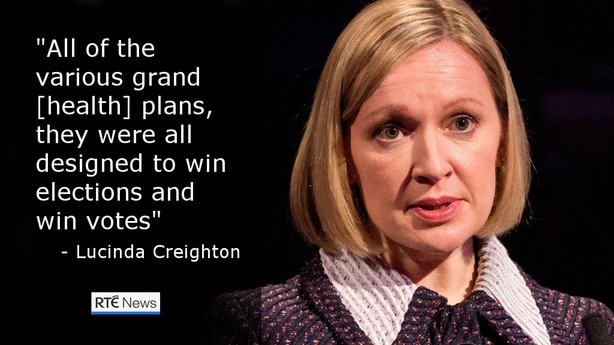 Tánaiste Joan Burton said Mr Donnelly was speaking in management consultant talk and said she would defy anyone to say the health service is entirely bad, while recognising that emergency department overcrowding is a problem.
Economy – recovery or bust
On the economy, the Sinn Féin leader - in making his "three amigos" jibe - accused Mr Martin of wrecking the economy and Mr Kenny and Ms Burton of subsequently embracing Fianna Fáil's agenda.
Mr Adams said his party's finance spokesman Pearse Doherty had worked hard with the Department of Finance to find out how much money was available to put into public services but the Government parties and "magicked" up a number and deliberately cooked the figures.
Mr Boyd Barrett said he wanted to see multinationals pay 12.5% in corporation tax, which he said would raise €4bn, adding that this would be invested in health, business and housing.
Mr Donnelly said businesses are being buried in red tape and money could be put into businesses in rural Ireland by reducing the cost of living.
Mr Adams also faced an early grilling by Mr Martin on his credibility, when he said Mr Adams had been denying for 30 years that he was a member of the IRA.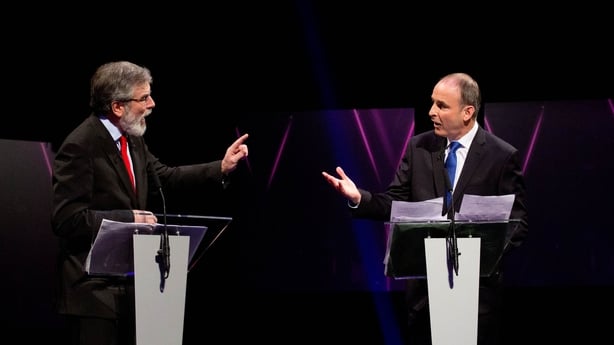 In a robust response, Mr Adams accused  Mr Martin of being part of a government which had caused the worst economic crash in the history of the State and his charges about Mr Adams' involvement in the IRA would not help anybody affected by that crash.
Mr Martin also said Mr Kenny and Fine Gael have pledged the costliest promise in the Irish electoral history through their commitment to abolish the USC.
In response, the Taoiseach said that when taxes are reduced, more revenue is taken in and that is why the abolition of the USC means every worker will be better off.
Mr Boyd Barrett said the Government was fooling people by telling them it could fund health and housing with the fiscal space before being swiftly told by the debate's moderator that it should be the last time "fiscal space" was used.
Labour leader Joan Burton said Mr Martin was like the emperor with no clothes and if there is anything to be wary of, it is him.
She said Labour plans to create 50,000 apprenticeships to allow people to work, earn and learn and it was critical to have a managed economy.
The Renua leader said rural Ireland was not feeling the recovery and her party was the only one suggesting full employment in the State.
On the issue of jobs, it was Mr Boyd Barrett who hit the right note with the audience,  receiving three rounds of applause. He singled out the JobBridge programme for particular criticism, saying being paid a small amount on top of the dole was not something he welcomed.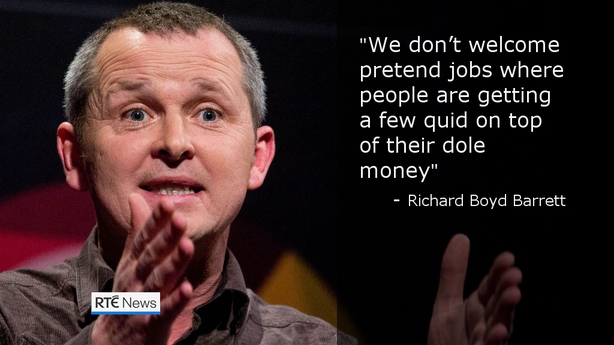 Ms Creighton accused the government of forcing doctors and nurses abroad through its policies. She said they do not apply for jobs in Ireland because they are being "hammered" through personal taxation, which she accused Fine Gael of not addressing.
Mr Donnelly said the Government was offering false promises and said the public was being told that it could have US-style taxes and European services.
However, he said if USC is abolished, it would wipe out €4bn-€5bn in taxes and warned that economic storm clouds were gathering.
He said the USC was a necessary tax for a stable tax base and the party's plan was to put money in people's pockets by reducing the cost of living.
'Three strikes' - all out
The panel was also questioned about rural crime, with Ms Creighton advocating a "three-strike" system for serious crimes.
She also defended her party's view that parents should be legally responsible for their children and was applauded for her insistence that parents pay for legal costs if their children continue to go through the legal system, rather than the taxpayer paying.
Ms Burton said the Government had re-opened Templemore to train new gardaí and there are investments in Garda vehicles and an IT system.
Mr Adams accused the Government of being soft on crime and said reopening Garda stations would help engender confidence in people who are living in fear.
Each of the leaders was asked with whom they would be willing to go into coalition, with Mr Kenny saying his proposition was to return to the present Coalition.
Ms Creighton said there is no difference between Fianna Fáil and Fine Gael, while Mr Adams said it was time to send the three amigos (Kenny, Burton and Martin) away and to elect a progressive government.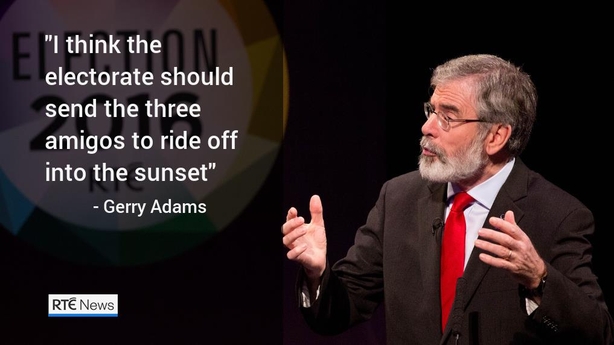 Mr Boyd Barrett said he would not swap his principles like Labour did when going into government while Mr Donnelly did not rule out the possibility of the Social Democrats going into coalition.