At least 21 people, many of them children, have been killed in separate air strikes in northern Syria today.
Suspected Russian air strikes hit a hospital supported by Doctors Without Borders (MSF) killing at least 14 people including a child, the Syrian Observatory for Human Rights said.
The raids also left dozens wounded, said the Observatory, which relies on a network of sources on the ground.
An MSF spokesman confirmed that a hospital supported by the aid group was struck in Maaret al-Numan, about 280km north of Damascus.
The organisation supports around 150 hospitals in Syria.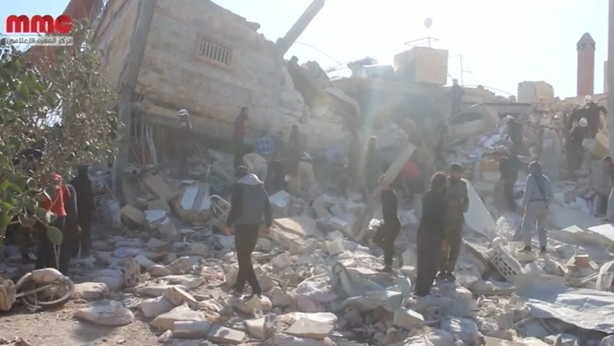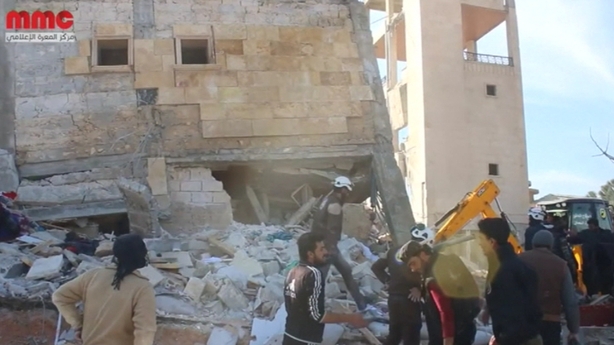 In a separate raid, at least seven fatalities are also reported near the rebel-held town of Azaz near the Turkish border, when missiles struck a children's hospital and a school.
This attack is also being blamed on Russia.
Turkish Prime Minister Ahmet Davutoglu has accused Russia of acting as a "terrorist organisation" in Syria and vowed to deliver a robust response.
"If Russia continues behaving like a terrorist organisation and forcing civilians to flee, we will deliver an extremely decisive response," Mr Davutoglu said through an official translator during a visit to Kiev.
"Unfortunately, barbaric attacks on civilians are continuing in Syria and these attacks are being waged by both Russia and terrorist groups," Mr Davutoglu said.
"Russia and other terrorist organisations - first and foremost, the Islamist State in Syria - are responsible for numerous crimes against humanity," he added.
Tensions between Russia and Turkey have soared over Moscow's backing of Syrian President Bashar al-Assad and Russia's intense air campaign against what it claims are "terrorist" targets in its allied Middle Eastern state.
Turkey has long backed Mr Assad's ouster and like other Western nations accuses Russia of predominantly bombing Syrian rebel groups backed by Washington and its allies instead of the self-proclaimed Islamic State.
Mr Assad's forces have most recently used Russian air support to move ever closer to the rebel stronghold of Aleppo in northern Syria.
The resulting refugee flood toward Turkey has put renewed pressure on Ankara to open its border with Syria temporarily - a move Turkish President Recep Tayyip Erdogan has until now been unwilling to take.
Mr Davutoglu further slammed the Syrian peace talks that were halted after only a few days this month in Geneva as "diplomatic theatre" for which "the international community will ultimately bear responsibility".
A Syrian media activist in Damascus has filmed the impact of a helicopter airstrike just metres away from the blasthttps://t.co/8G1BOSOI7c

— RTÉ News (@rtenews) February 15, 2016
Two policemen die in bomb blasts in Dagestan
Two Russian policemen died and two others were injured in a blast at a checkpoint in the North Caucasus region of Dagestan, the interior ministry said.
The blast occurred as police officers were attempting to inspect a Lada car at a checkpoint near the village of Dzhemikent on the Caspian Sea, the interior ministry's district office said in a statement.
"Two police officers died and two more were hospitalised with injuries," the statement said.
A source in Dagestan's security forces was quoted by RIA-Novosti as saying the blast was a suicide bombing.
"A suicide bomber terrorist was behind the wheel of the car, he exploded himself," the source said.
Dagestan has been gripped by nearly daily violence for years due to a simmering Islamist insurgency there, though it has abated during the conflict in Syria which has seen an exodus of Russians from the North Caucasus to join the jihadist fighters in the so-called Islamic State group and al-Qaeda affiliate Al-Nusra Front.