Up to 1,000 people took part in a march in Stranorlar, Co Donegal, today in a bid to retain St Joseph's Community Hospital.
The march was organised by the local Save our Hospital group to protest at plans to move residential community nursing beds from Stranorlar, Lifford and Ramelton hospitals to a new facility in Letterkenny.
The protesters marched from the hospital in Stranorlar all the way to the centre of Ballybofey, which is a twin town, where a public meeting was held.
Chairman of the action group, Stranorlar priest Fr John Joe Duffy, who led the march, said the HSE proposals are "stealth cuts" and that the plans were to keep the hospitals open in name only as centres of administration and that long-stay beds will be taken out of the three hospitals as well as respite beds.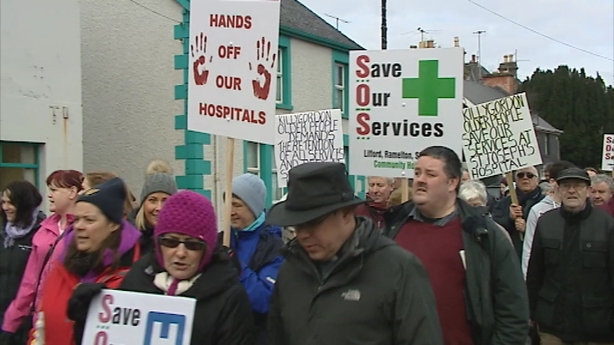 Several General Election candidates took part in the protest, including Thomas Pringle, Frank McBrearty Junior and Tim Jackson.
Fr Duffy said the cutbacks were part of "the erosion of smaller towns and rural communities by government policy trying to move people into massive urban centres".
"It will make it impossible for people to visit their relatives on a daily basis which is happening when these hospitals are at the heart of the community, so it is tearing the heart out of these communities," he said.