Taoiseach Enda Kenny has said the Garda Commissioner will oversee security arrangements for the funerals of two men murdered in Dublin in the last week.
Mr Kenny said his understanding was that Nóirín O'Sullivan would direct the security operation.
Officers remain on high alert in the wake of the two killings which have triggered an intense focus on gang-related crime in Ireland.
In an interview with Red FM in Cork this morning, Mr Kenny said there was a five-day preparation for the funerals and reiterated his determination to deal with criminal gangs.
Mr Kenny said gardaí had dealt with similar threats in the past and would do so again now.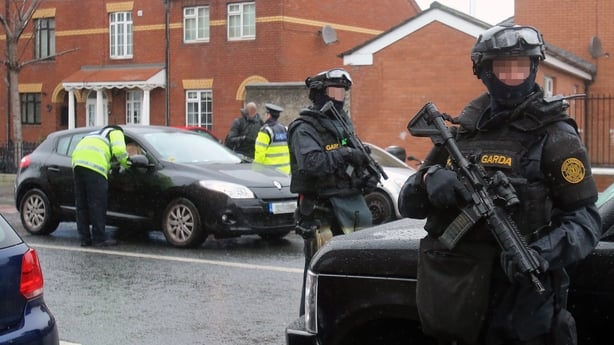 The Government announced this week that it was creating a permanent Dublin armed support unit.
Elsewhere, Independent News and Media has said it has increased security after two of its reporters were informed by gardaí their safety was at risk from criminals.
Stephen Rae, the editor-in-chief at INM which includes titles such as the Irish Independent and the Sunday World, said the group would not be intimidated and both journalists will continue to work.
"The journalists are working within a security operation," he told RTÉ's Morning Ireland.
"They are still reporting, they are still reporting the facts."
He said it was "incumbent of us" to "continue reporting the facts".
Mr Rae said they chose to go public with the threats because they not only represent a risk to both journalists but also to society.
He added that the situation has nothing to do with photographs taken by INM reporters at the boxing weigh-in event at the Regency Hotel in Dublin in which one man was killed.
He said he understands the reporters are being threatened for reporting the details of a gang-related feud.
The National Union of Journalists in Ireland has described the threats as shocking but not all that surprising that the rights of journalists are not respected by those who profit from crime.
Speaking on RTÉ's Morning Ireland Seamus Dooley, Secretary of the NUJ, said journalists should not be put in a place where they have to hand over information and that gardaí should have to seek material under the order of a judge.
He added that this should only be done when there is no alternative.
"We have always said that journalists operate independently of the State and that they should not be used to gather information.
"If the gardaí, in the course of an investigation, require information they should go into the courts, they should seek material under the order of a judge and it should only be done where there is no alternative" he said.
Mr Dooley described journalism as a dangerous profession, with 115 worldwide members of the NUJ killed last year.
He said he has particular concern for freelance journalists and photographers as they generally work alone, and called for them to receive all necessary training to deal with these situations.
He added that all media organisations should review their security.